New CVS Health study reveals consumers want a more local, personal health care experience
What kinds of services and support do consumers want and need to achieve their health goals? And what is CVS Health doing to help them achieve those goals? A new CVS Health survey called the Path to Better Health Study aims to find out.
In 2018, Aetna, a CVS Health company, released the inaugural Health Ambitions Study, examining consumer health goals, care preferences and the patient-provider relationship. This year, we dug deeper with the Path to Better Health Study. The study explores consumer health goals and challenges and care preferences and asks providers what they need to help patients achieve the care.
Health care today: Goals and challenges
Our study asked respondents to rate themselves across the six dimensions of well-being, which include emotions, physical health and financial security. In the study, consumers also reported on their top five health goals and the top chronic conditions they are facing today. We found that people's desire to live a healthier life, with goals that include a healthy diet, improved fitness and better sleep, aligned with the common challenges they are facing, such as obesity and other weight concerns, high blood pressure and diabetes.
Millennials, the first 'digital native' generation, reported their own set of unique challenges, citing difficulty in meeting new people and the desire to be more social. These concerns may be leading to challenges managing mental illness and alcohol abuse.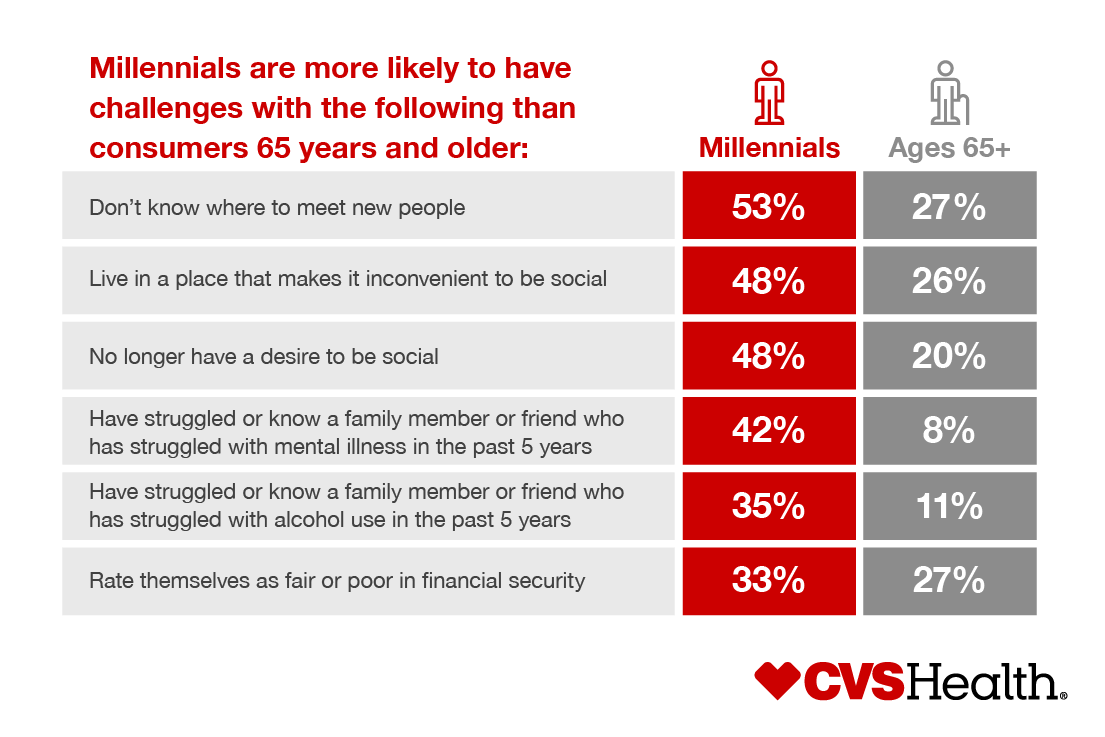 A desire for more personal and more digital health care
To achieve their personal health goals, which are centered around chronic conditions, consumers and providers alike say they need a health system that's more digital, community-based and focused on achieving better total health outcomes, according to our study.
"Our physical health is directly impacted by other important aspects of our lives including our mental health, social connections and financial health," said Karen S. Lynch, Executive Vice President, CVS Health, and President of Aetna. "The good news is that people are getting proactive about addressing these holistic concerns. Now, our health system must adapt to how consumers are approaching health care and be more inclusive and supportive of people's total health."
Our Path to Better Health Study found that:
Millennials show a greater reliance on digital health tools, but also believe that in-person visits with their provider are valuable

Providers need more support in balancing the adoption of digital tools with caring for patients; those who do use digital tools record better patient results

Providers who implement a value-based care model, which aligns payment with quality of care, report high satisfaction with their time spent with patients, and

Among provider groups, pharmacists are the biggest advocates of value-based care

To read more about our Path to Better Health Study and view the results, read the executive summary and infographic.