More than ever, we're challenging the stigma around mental health. While staying safe during the pandemic, quarantining and isolation raised concerns about mental well-being. Today, it's become a national conversation.
Open conversations can help fight the stigma, and this is particularly important for people who identify as LGBTQ. Stemming from bias, discrimination, anti-LGBTQ stigma, and other factors, studies and surveys continue to show a higher risk of challenges to mental well-being within the LGBTQ community.
If you are in the community or you're an ally, caregiver, or loved one of someone who is, what can you do?
LGBTQ+ mental well-being: What we know
In a recent CVS Health/Morning Consult survey of 2,000 adults, 57 percent of those who identify as LGBTQ expressed that they had concerns about their own mental health, which is 20 percentage points  higher compared to adults overall. Further, LGBTQ individuals are nearly three times as likely than the general population to experience a mental health disorder in their lifetimes.1
Challenges to mental well-being can begin — and may even be more present — during youth. According to the Trevor Project's 2022 National Survey on LGBTQ Youth Mental Health, nearly three out of every four participants reported symptoms of generalized anxiety disorder. LGBTQ youth are also six times as likely to experience symptoms of depression and four times as likely to attempt suicide than their straight and cisgender peers.2
Every member of the LGBTQ community has a unique life experience based on a variety of social factors — many of which may contribute to mental well-being. One critical factor is family and community support. Whether or not someone feels their identity is validated, and that they are accepted by those they care about and their community, can significantly impact well-being. The Trevor Project survey found that LGBTQ youth who live in a community accepting of LGBTQ people reported significantly lower rates of attempting suicide than those who do not.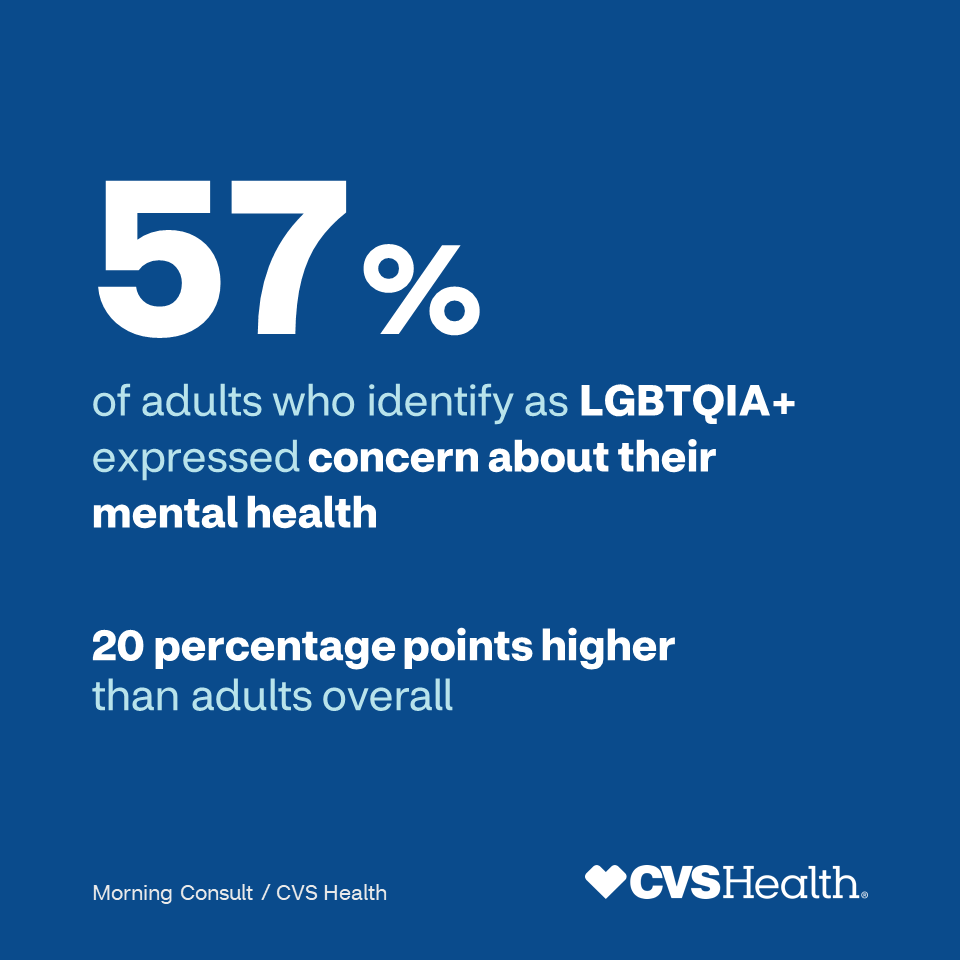 Supporting yourself and others
Getting the right support at the right time is key. CVS Health has made a commitment to address health disparities that impact historically marginalized communities, including the LGBTQ community. We proudly collaborate with Accenture, The Trevor Project, and the Human Rights
Campaign to make strides toward health equity.
Below are a few resources you can use and share for your own mental well-being and the health of LGBTQ+ loved ones and friends in your life:
Remember to "Stop. Ask. Listen." for your and others' mental well-being. Learn about Stop. Ask. Listen. and CVS Health's mental well-being offerings, including depression screenings at MinuteClinic locations.
Access mental health resources specific to the LGBTQ community: