Sean Ware was lovingly raised by a single mom on Pittsburgh's East Side. She made sure he and his siblings never went without. As a young man, Sean enlisted in the Army, serving nearly 10 years as a patriot missile crewman. He endured blinding sandstorms in Iraq and lonely days in South Korea, away from his wife and his sons.
But, looking back, Sean is grateful for those years. "I'm proud of the man serving my country made me. And of the values of loyalty, duty, respect, selfless service, honor, integrity and personal courage the Army instilled in me," says Sean. "They are similar to CVS Health values," he notes, "and I try to pass them onto my kids and community."
The CVS Health® Pittsburgh Workforce Innovation and Talent Center (WITC) located in the Ebenezer Baptist Church, is one place Sean puts those ethics into practice. As associate manager, Sean has been the heart of this groundbreaking program which seeks to give people the job skills, experience and support they need to escape cycles of poverty. Sean coordinates classes in fields such as retail, pharmacy, audio/visual production, and culinary arts. Already, seven pharmacy technician classes have graduated, providing meaningful careers as well as a pipeline of talent for CVS Health.
While participants transition into new positions, the Church provides wrap-around services like food, medical, and child support for three full years. "Our job is to create the best candidates possible," says Sean. "We can't do that if they're struggling with conditions of poverty while they are trying to escape it."
To date, the WITC has served over 11,000 people. This success wasn't guaranteed though. "When we first opened July 2021," says senior manager John White, "people were apprehensive: 'Why is this big company coming into our neighborhood?' they asked."
Sean, through his sincerity and compassion, has earned their trust. "He's amazing," says John. "He'll strike up a conversation with a person on the street and next thing I know, they're inside with a plate of hot food learning about career options. He knows how to turn lives around."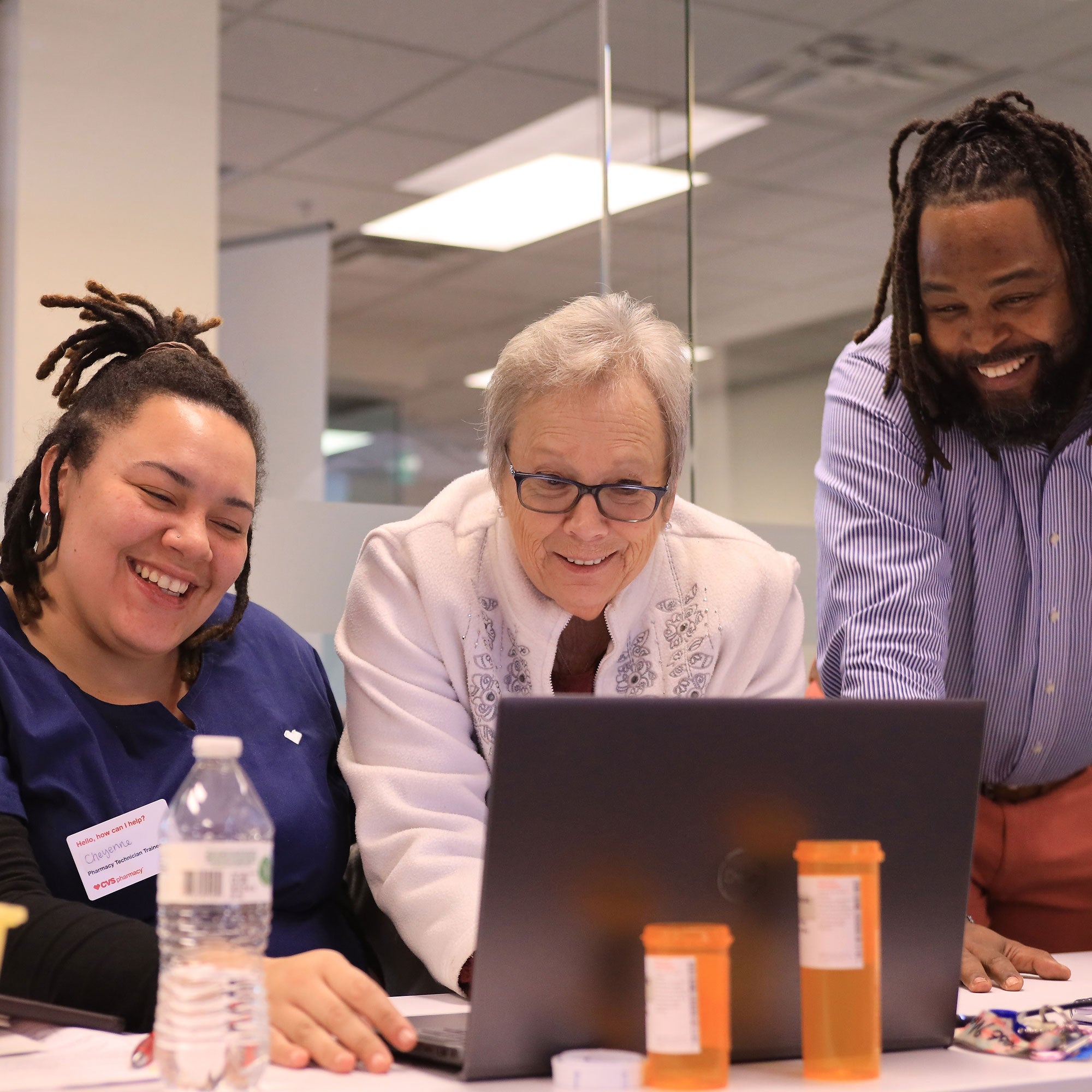 Serving underserved veterans
Perhaps the slowest to trust were military veterans, who make up a significant portion of the area's unhoused population. Many are Vietnam War vets, 55 years or older.
"The skills they learn in the military don't always transfer to civilian life, and they're often not aware of the help that's out there," Sean says. "America doesn't advertise those programs."
One veteran, Louis1, was exiting the service after 15 years and needed help finding a job. Sean found a 12-week store manager-in-training at the local Bethel Park CVS Pharmacy®, guided him through the application process and helped get him a full-time position there after training.
Recently, a free eye screening offered at the WITC saw 429 attendees, with 333 receiving new eyewear the same day; about half of those helped were veterans. Last Thanksgiving, the Ebenezer Baptist Church with help from the WITC staff, provided meals for a homeless veteran shelter and intend to do so again this year.
"To struggling veterans: you're not alone," Sean says. "I'm here to help, CVS Health is here to help."
This Veteran's Day, we thank all our veterans for their service to our country, and we especially thank you, Sean, for giving back to your fellow servicemen and women.