For over two years, Alison Ney has served as a clinical pharmacist for Aetna Medicare. Working behind the scenes, she performs medication reconciliations for members after a hospital stay to help avoid readmissions. She also reviews complex cases and connects members to care management programs. Recently, Alison received a request for a different kind of service.
The Delaware Air National Guard (DE ANG) asked Alison to return to active duty to support the COVID-19 vaccination effort. A member of the DE ANG for three years, she felt compelled to serve her country and community in this important endeavor and proudly accepted this mission and joined the front line.
Based in New Castle, Delaware, the Joint Force headquarters consists of Army and Air National Guardsmen who supported the Delaware Division of Public Health COVID-19 Vaccine distribution. Alison served as a vaccinator, preparing and administering the vaccines. Her team of nine included a nurse, nurse practitioner, emergency medical technicians and Army medics. They traveled throughout Delaware to vaccinate communities, mainly in churches and community centers and administered nearly 3,000 Pfizer vaccinations.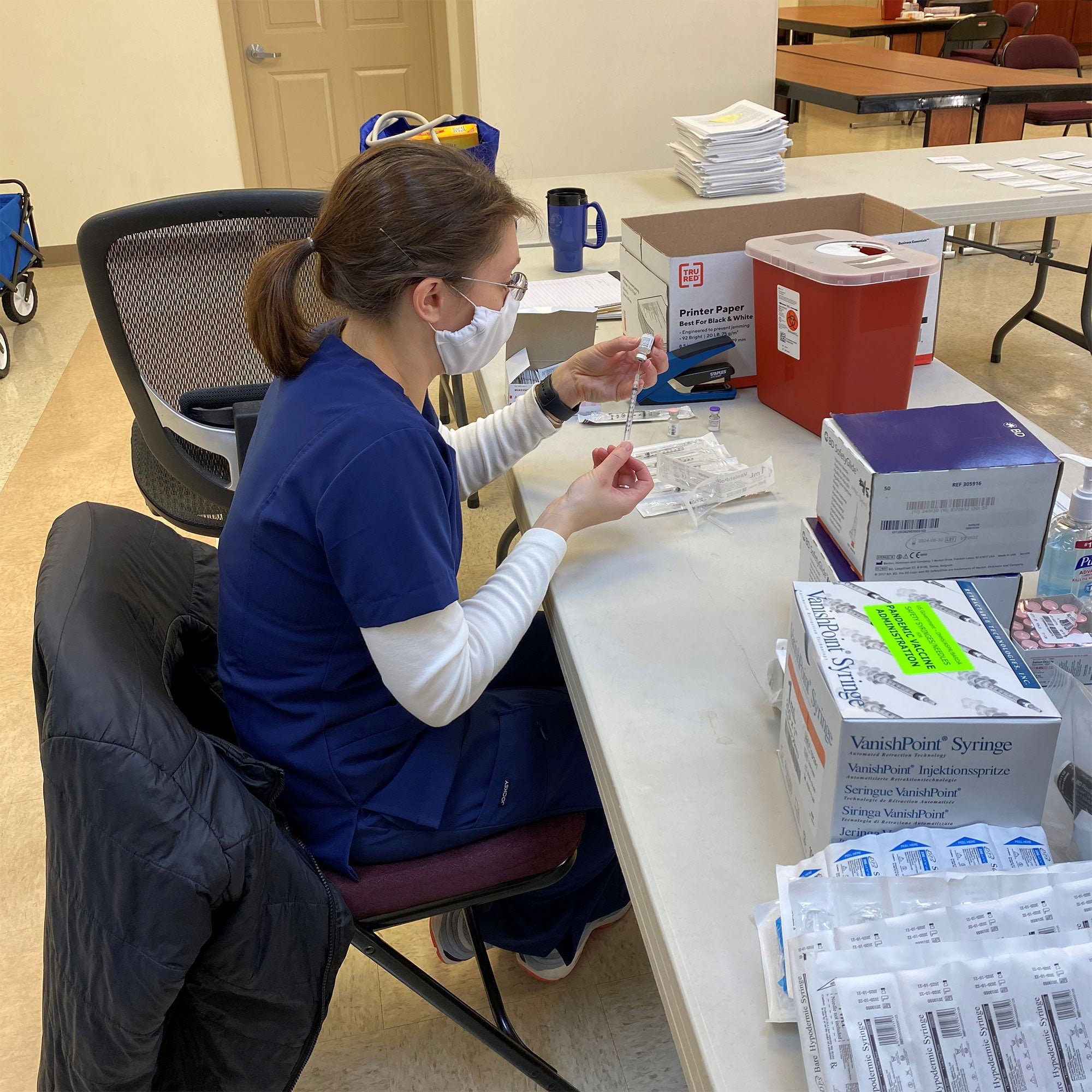 It was such a rewarding experience," said Alison. "The patients were so thankful and relieved to finally get vaccinated. I am proud to serve in the military as a pharmacist and to be part of a mission for the greater good of the community." Alison was also excited to see many patients wearing the purple Aetna masks they received in the Caring for You kits sent to Medicare Advantage members last fall.
Alison notes she couldn't have done this without the support of Clinical Pharmacy Manager Brenda Butler, her Aetna family and her own family. Her parents moved in to help with her two young sons, Jacob 6 and Nathaniel 4. "I feel blessed to be surrounded by such wonderful, supportive people in my life who understand the importance of this historic mission."
Before joining the DE ANG, Alison served as a pharmacist for seven years with the Air Force on active duty traveling around the country. To stay in the military and serve closer to home, she transferred to the DE ANG in 2018.
"Alison made a real difference in the lives of so many Americans," noted Christopher Ciano, President of Aetna Medicare. "She stepped up and served us all well."
This July 4th we thank you, Major Ney, for being part of the mission to put people on their path to better health.