Changing nothing can change everything. The CVS Beauty Mark is a pledge to pass on a healthy self-image to the next generation.
CVS Pharmacy is one of the largest and most trusted beauty retailers in the country, and we are passionate about beauty and the important role it plays in overall health. We know that taking time to feel good on the outside enhances overall well-being. We also believe we have an opportunity, and a responsibility, to think about the messages we send to our customers and how they impact their health.
That's why in 2018 we made a commitment to not materially alter the beauty imagery we create for our stores, marketing materials, websites, apps or social media. We will not digitally alter or change a person's shape, size, proportion, skin or eye color or enhance or alter lines, wrinkles or other individual characteristics. We want our beauty aisle to be a place where our customers can always come to feel good, while representing and celebrating the authenticity and diversity of the communities we serve.
To support this initiative, we:
Introduced the CVS Beauty Mark, a watermark that appears on imagery that is authentic and has NOT been materially altered.

Are working with all brand partners to redefine industry standards in the beauty aisles and beyond and to ensure that any imagery they use that has been altered is visibly labeled as such.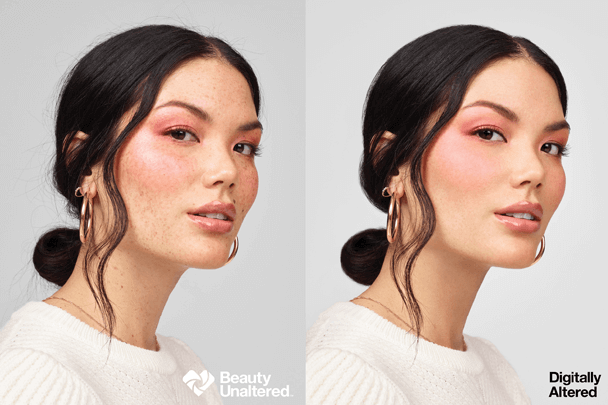 The CVS Beauty Mark started to appear on CVS Pharmacy-produced beauty imagery in 2018. In 2021 we announced we had reached our goal of full transparency for beauty imagery produced by and for CVS Pharmacy.
As the first major retailer to implement these standards, we've driven a marked shift in industry standards for post-production alterations of beauty imagery, with many of our brand partners now using unaltered, CVS Beauty Mark compliant imagery across all retailers. Learn more about our brand partners on the CVS Pharmacy site.
We've also enlisted nearly 600 influencer partners to share over 50 million impressions of unaltered social media imagery, since launching the Beauty Mark commitment in 2018.
The latest phase of Beauty Mark centers on bringing attention to the mental health impact women are facing due to increased screen time and the importance of self-care to counteract those negative effects.