Company also announces $20,000 grant to support addiction recovery in eight rural WV counties
WOONSOCKET, R.I., April 16, 2018 /PRNewswire/ -- CVS Health (NYSE: CVS) announced today that the company has expanded its safe medication disposal program to locations inside 19 CVS Pharmacy locations in West Virginia to help facilitate proper and timely disposal of opioids and other medications that could otherwise be diverted or misused. The CVS Health Foundation will also provide a $20,000 grant to Westbrook Health Services in Parkersburg to support opioid addiction recovery.
"CVS Health is dedicated to addressing and preventing opioid abuse and misuse in the communities we serve," said Thomas G. Davis, R.Ph., Vice President of Professional Services for CVS Health. "We are expanding our safe medication disposal efforts to provide more locations where people can safely dispose of unwanted medications, getting them out of medicine cabinets where they could be abused. Our safe medication disposal initiative, and our funding for community organizations supporting addiction recovery in West Virginia, are an extension of CVS Health's purpose of helping people on their path to better health."
The 19 new medication disposal units that have been installed inside CVS Pharmacy locations in West Virginia will supplement the five additional units CVS Health has previously donated to police departments in Parkersburg, Star City, Charleston, Marlinton and Morgantown. Nationwide, the company has donated more than 850 units to police departments, collecting more than 140 metric tons, or 300,000 pounds of unwanted medication. And the program continues to accept applications from law enforcement in West Virginia and across the country.
The $20,000 grant being awarded to Westbrook Health Services is another part of CVS Health's focus on preventing and addressing opioid abuse. Westbrook Health Services provides behavioral health services in eight rural counties in West Virginia: Calhoun, Jackson, Pleasants, Ritchie, Roane, Tyler, Wirt and Wood. This grant will support Westbrook's "Community Partner Outreach Initiative for Healthy Outcomes," which is designed to educate and connect people struggling with challenges associated with substance use disorder (SUD) to programs and services in their community. Using prevention, education and stigma reduction messaging, this program will assist in educating the community to more positively address the issue of substance use disorder, providing hope and help. Specifically, the grant will improve training, benefiting 3,000 patients in Westbrook's treatment center and 5,000 local students via community outreach.
"The funding Westbrook Health Services, Inc. received from CVS Health allows us to provide valuable training in substance use disorder for Westbrook staff and the community at large," said Liz Ford, Marketing Coordinator, Westbrook Health Services. "Through this support, we are better able address the opioid epidemic throughout West Virginia, which is critical to delivering a healthier community."
The expansion of safe medication disposal to a total of 750 CVS Pharmacy locations across the U.S. was included among the enhancements to the company's strategy to address and prevent opioid abuse announced in September 2017. As part of that effort, the company also said it would enhance opioid utilization management aligned with CDC Guideline for CVS Caremark clients and members, complementing measures already in place. This work builds on ongoing programs the company operates including the Pharmacists Teach program, which brings CVS Pharmacists to local schools to talk to teens and parents about the dangers of abusing prescription drugs. Nearly 4,000 students across West Virginia have already participated in the program. CVS Health has also worked to expand access to the opioid overdose-reversal drug naloxone in 46 states, including West Virginia.
The 19 new medication disposal units are located at the following CVS Pharmacy locations:
,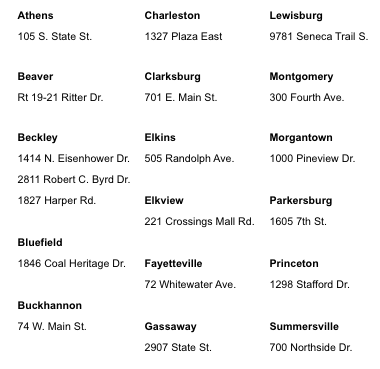 ,
About CVS Health
CVS Health is a pharmacy innovation company helping people on their path to better health. Through its more than 9,800 retail locations, more than 1,100 walk-in medical clinics, a leading pharmacy benefits manager with more than 94 million plan members, a dedicated senior pharmacy care business serving more than one million patients per year, expanding specialty pharmacy services, and a leading stand-alone Medicare Part D prescription drug plan, the company enables people, businesses and communities to manage health in more affordable and effective ways. This unique integrated model increases access to quality care, delivers better health outcomes and lowers overall health care costs. Find more information about how CVS Health is shaping the future of health at www.cvshealth.com.
Media Contact:
Erin Shields Britt
Corporate Communications
(401) 770-9237
Erin.Britt@CVSHealth.com
Mary Gattuso
Corporate Communications
(401) 770-9811
Mary.Gattuso@CVSHealth.com
SOURCE CVS Health