Live Better™ by CVS Health brand makes on-trend ingredients more accessible to consumers
WOONSOCKET, R.I. — CVS Pharmacy today announced the roll out of more than 80 new products under the Live Better™ by CVS Health brand. The retailer also committed to ensuring all packaging in the expanded health and wellness brand be at least 80% recyclable. The assortment will span nine categories and make some of the most sought-after trends in the wellness space more accessible to consumers at a competitive price.
"We are committed to creating quality, innovative and industry-leading products that empower our customers to make self-care a part of their everyday health," said Brenda Lord, Vice President, Store Brands, CVS Health. "Holistic wellness is a personal journey. With the unveiling of so many new Live Better product offerings, customers have access to high-quality ingredients that reflect the latest wellness trends, at a good value."
In addition to products featuring popular and emerging ingredients such as elderberry, ashwagandha, turmeric, kelp, maca, ginseng and charcoal, many are also labeled USDA-certified organic, non-GMO project-certified, gluten-free, cruelty-free or vegan. The brand calls out unique ingredient details, and the rich back stories of how some of the products were sourced and sustainably manufactured can be read on the packaging or online.
,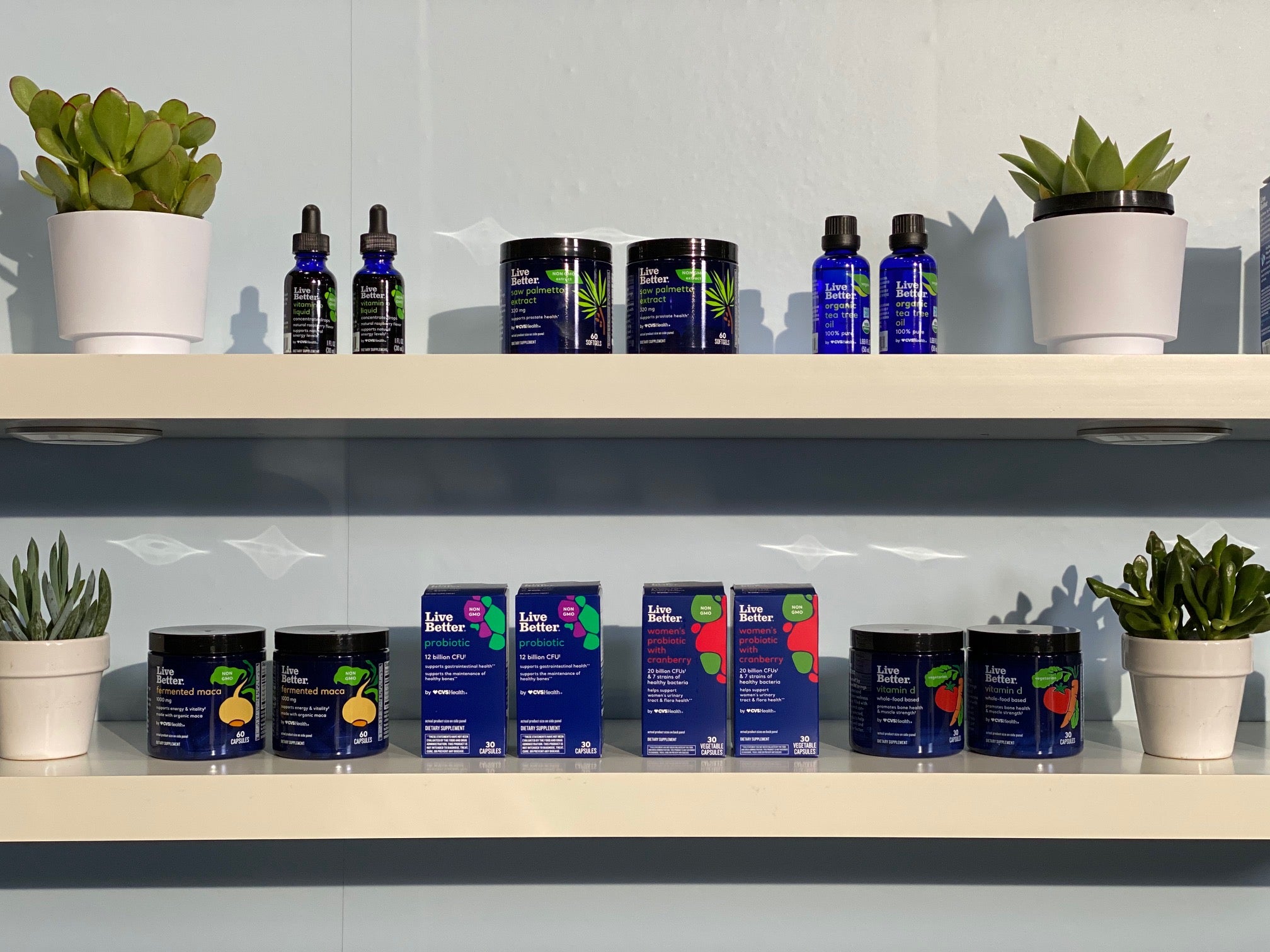 ,
Unique brand back stories include:
Live Better by CVS Health Wild-Caught Fish Oil: Sourced from Walleye Pollock caught wild in Alaskan waters by Marine Stewardship Council Sustainably certified fisheries. Within hours of being caught, the oil is extracted, pressed and purified by a family-owned American company to maximize freshness.

Live Better by CVS Health Bamboo Toothbrush: To ensure vital food supplies are not taken from wild animals, this product is made from Moso bamboo, which is not part of a panda's diet.

Live Better by CVS Health MCT Oil: A source of beneficial, energy-supporting essential fatty acids, this product contains ingredients from raw material suppliers that are certified by the Roundtable on Sustainable Palm Oil.

Live Better by CVS Health Marine Green Blend Powder: This naturally gluten-free, vegan and USDA-certified organic product is made of kelp, chlorella and spirulina that is a good source of naturally-occurring iron.

Live Better by CVS Health Baby Cheek balms: Each product is manufactured using sustainable practices such as solar and wind power.
Live Better by CVS Health vitamins and supplements meet CVS Pharmacy's "Tested to Be Trusted" standards, an industry-first program that requires third-party testing of all brands of vitamins and supplements sold in store and online to confirm the accuracy of the dietary ingredients listed on the supplement facts panel, and that they are free from certain additives and ingredients. For those who have difficulty swallowing capsules, some products come in formats such as concentrate drops, drink packets, loose powders and gummies.
In addition to the roll out of new Live Better products, 30 new better-for-you choices were added to the popular Gold Emblem and Gold Emblem Abound snack and grocery lines, including exotic flavors, indulgent ingredients and unique product forms. Examples include organic chili lime dried mango, probiotic apricots, plantain chips, sesame tahini cashews, and spreadable honey.
All CVS Store Brands products carry a commitment to quality, safety and trust, and hold a 100% satisfaction guarantee. For more information about Live Better by CVS Health, please visit CVS.com.
About CVS Pharmacy
CVS Pharmacy, the retail division of CVS Health (NYSE: CVS), is America's leading retail pharmacy with over 9,700 locations. It is the first national pharmacy to end the sale of tobacco and the first pharmacy in the nation to receive the Community Pharmacy accreditation from URAC, the leading health care accreditation organization that establishes quality standards for the health care industry. CVS Pharmacy is reinventing pharmacy to help people on their path to better health by providing the most accessible and personalized expertise, both in its stores and online at CVS.com. General information about CVS Pharmacy is available at http://www.cvshealth.com.
Media contact
Stephanie Cunha
stephanie.cunha@cvshealth.com
401-770-9354
,