This is Rhiannon Burton's second time in prison, but when she's released, she says things are going to be different.
"I have a release plan now, and I know what I want," she says.
Rhiannon plans to study business management and to let go of negative relationships. "I stopped talking to people — even family members — that were toxic for me and put boundaries between us, even though I love them," she says. "I know I can't go home to the same people."
She credits the Televerde Foundation's second chance program and its partners, such as CVS Health®, with providing the tools to help her succeed.
"They set you up with a mentor to make sure you stay on the right track," Rhiannon says. "They make sure that you have a safe place to go and a job within the first six weeks of being out — and not just a McDonald's job. They help you with a career."
Making a successful reentry
For over 600,000 formerly incarcerated people who transition from prisons to local communities in the U.S. each year, the opportunity for employment not only improves economic stability, but reduces the likelihood of returning to prison.
Yet, the unemployment rate for formerly incarcerated people is nearly five times higher than that of the general U.S. population. And the label of being "formerly incarcerated" has shown to impact opportunities for Black and Hispanic people — especially women — at an even greater rate.
Lack of access to relevant training to prepare for a successful reentry into the workforce is a major challenge for the second chance population, says Michelle Cirocco, Executive Director for the Televerde Foundation.
"There's a tendency for second chance jobs to be low wage, low skill jobs," she says. "Providing access to jobs that lead to meaningful careers enables people to become financially independent and take care of their families so that they can stay out of prison forever."
Based in Phoenix, Arizona Televerde helps currently and formerly incarcerated women. In addition to helping formerly incarcerated women gain employment, the foundation's flagship six-month reentry program focuses on personal development goals, such as good decision making, healthy relationships, family reunification and overcoming substance abuse, Cirocco says.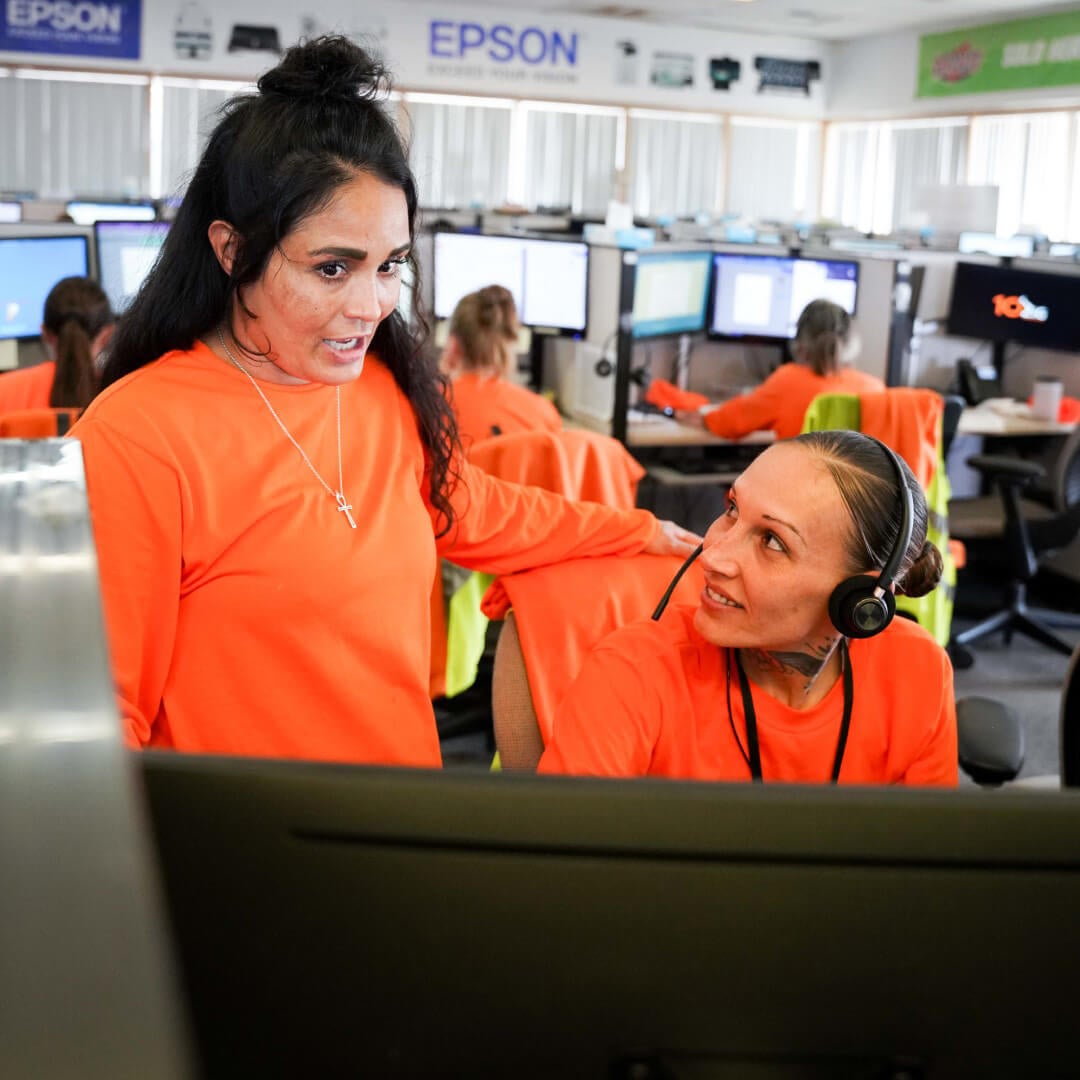 Partnering for success
As part of its companywide commitment to social justice and equity, CVS Health's own Second Chance program works with some 1,700 community-based organizations at national, state and local levels across the country, including the Televerde Foundation.
"Some of those are organizations that may only hire two or three people a year; some of those are at a much larger scale, but the key here is making sure that we address the needs of individuals," says Ernie Dupont, Executive Director of Workforce Initiatives for CVS Health.
CVS Health's Second Chance program aims to help anyone who has been involved with the justice system find meaningful careers, says Ernie, by offering a variety of workforce development and education opportunities such as apprenticeships, internships, job shadowing and on-the-job training.
"The Second Chance program was born out of a need to better support our communities, but also to look for talent in a place that a lot of organizations overlook," he explains.
The program, which also addresses financial literacy, food security and housing, is not a handout. "We expect every person to earn their way and be successful based on their own merits, but we want to put those assistance pieces in place. We recognize, as a company, we can't address all these things, and that's why these relationships are critically important."
Breaking the cycle of women incarceration in the US
Women's incarceration has grown at twice the pace of men's in recent decades.

80% of women in jails are mothers.

Almost 2 million women and girls are released from prisons and jails every year, but few post-release programs are available to them.

Formerly incarcerated women are more likely to be homeless than formerly incarcerated men.
Source: Prison Policy Initiative, 2019
Forming crucial relationships
Many of CVS Health's Second Chance partners are faith-based organizations, which Ernie describes as trusted institutional members of their communities.
The Meeting Place Second Chance program in Columbia, South Carolina, for example, collaborates with CVS Health, The Meeting Place Ministries and Path to Redemption Second Chance Outreach. The five-month program offers counseling, coaching, education services and skill training to help formerly incarcerated people successfully renter their communities.
"What excited us about working with CVS Health was it allowed us to do what we were doing and take it to scale," says Bishop Eric Freeman, senior minister at The Meeting Place, a faith community of 1,500 people that also partners with local organizations.
One example the Meeting Place had with the help of CVS Health: The ability to offer a forklift certification for second chance citizens.
"We began our collaboration with CVS Health last fall. Within the first three months, we were able to grow that class to over 50 students that successfully graduated. Eighty percent of them were placed in jobs immediately," he says. "Five of them were placed in jobs at CVS."
CVS Health also sponsors 50 women in the Televerde Foundation Second Chance program, including Rhiannon and Jessica Picket, who plans to go back to school for business administration when she's released from prison.
"Having a second chance would mean the world to me," Jessica says. "Having a second chance to prove that I am a hard worker, that I can do anything I set my mind to — also to prove that just because I've been incarcerated doesn't mean that I'm not a good person, or that anybody that's been incarcerated isn't capable of changing."
Rhiannon says the Televerde program has been life-changing.
"It's helped me a lot with my confidence and to figure out who I am and what I want to do with my life," Rhiannon says. "Honestly, before I started the program, I had in the back of my mind that I was going to go out doing the same thing. And just in the three months that I've been here, my whole life has changed."