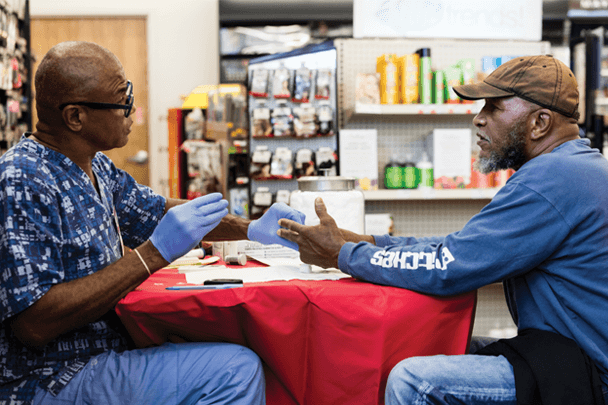 The streets of West Baltimore were thronged with people enjoying a pleasant late-summer day. A DJ played outside the Penn-North CVS Pharmacy, encouraging passers-by to come in for free health screenings. The store looks like any other around the country, but for local residents it has a special significance.
In 2015, the store was looted and burned to the ground in a riot that followed the burial of Freddie Gray. "The burning CVS…became perhaps the most recognizable image of one of Baltimore's darkest days," The Baltimore Sun reported at the time. But CVS Health rebuilt the store and reopened it just 11 months later, to excitement and positive energy from the community that had relied upon it, a symbol of the company's commitment to the city.
On the day of the Project Health event, patients chatted in a line inside the store and then sat with technicians who took their blood pressure, gave them hand-held, body mass-index monitors, and pricked their fingers to test blood glucose levels. Within minutes, they were seen by Physician Assistant Joe Frazier, who discussed their results on the spot.
Starting a Conversation About Health
While about 80 percent of the people at the event had health insurance, many face challenges with following up on health issues that are identified, Frazier said. "This is an outreach," Frazier said. "It gets them into the conversation about what they can do for themselves."
Lela Holmes, 63, had already been on medication for high blood pressure when she attended the screening. She learned that her blood pressure was under control, but her cholesterol was high. She pledged to call her doctor on Monday to discuss the cholesterol. Meanwhile, she lined up for a flu shot at the pharmacy.
"I think it's a fantastic program," Holmes said of Project Health. "It's making people alert about themselves, showing them maybe you need to go see a doctor for this or that. So I think it's wonderful."
Rodrick Penix, 23, has a family history of high blood pressure, strokes and seizures. Though he's visited a health clinic before, he says he first found out he had high blood pressure and very high cholesterol at the Project Health event. The physician assistant warned him that his young age doesn't exempt him from health problems, and he said he would return to the clinic with the results.
The Project Health event "reminds people how really serious their health is," Penix said. "It's always wonderful to take care of your body."
For more information about CVS Health initiatives to support communities we serve or to view the complete Corporate Social Responsibility report, please visit CVSHealth.com/CSR.