A new Aetna survey exploring consumers' health goals found that many people view health care holistically and are seeking ways to boost wellbeing, including mental health and stress reduction. The survey also revealed that people want increased flexibility in their access to health care as well as new tools and resources to help them reach their health goals.
,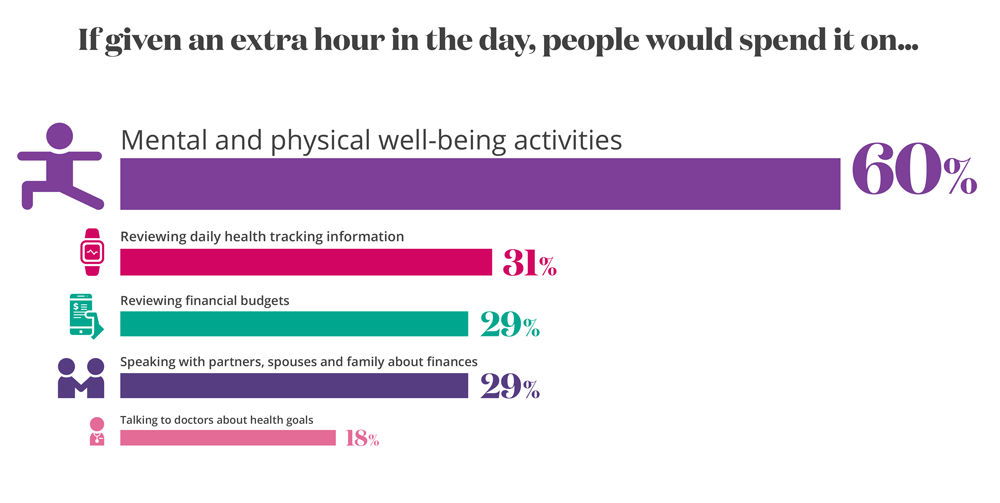 ,
Nearly two-thirds (60 percent) of people say that if given an extra hour in the day, they would spend it on mental and physical wellbeing activities. Additionally, more than one-third say they have either a stress reduction (40 percent) or mental health goal (36 percent). Sixty-seven percent of women would spend an extra hour in the day on wellbeing activities, and 45 percent have a stress reduction health goal, compared to 28 percent of men."The findings of this inaugural survey confirm Aetna's approach to providing access to tailored consumer-centric health care," said Karen Lynch, President of Aetna. "People clearly need to feel supported in their health care journeys and engaged and empowered to make their own health decisions."
,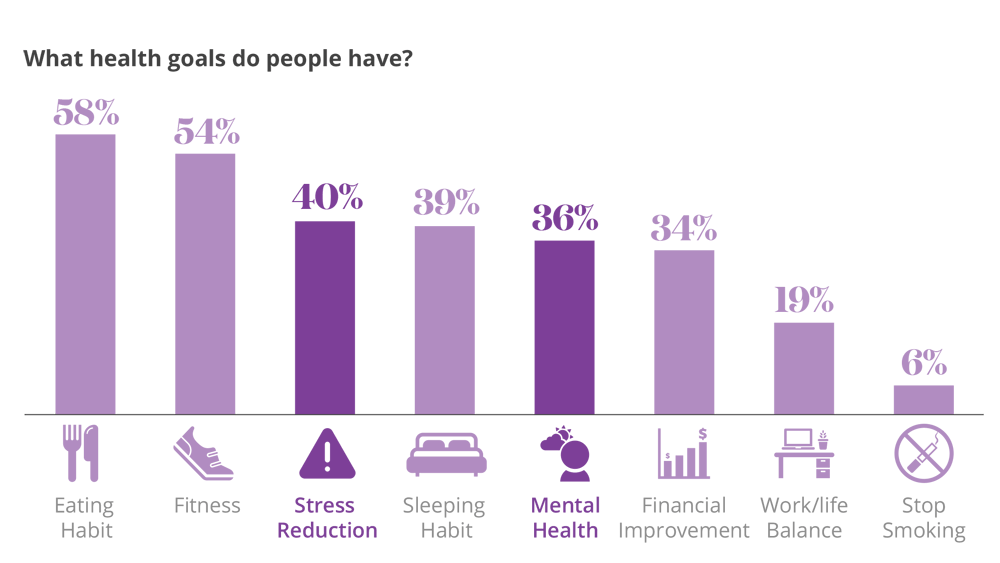 ,
Consumers cited increased health care flexibility and access to resources as the top two factors that would help them best achieve their health goals. Two-thirds (66 percent) of people say it's very important that doctors have office appointments when they need them, and 59 percent say having access to other health care professionals who can coordinate care is very important.
"As Aetna evolves to a health company, we are committed to partnering with our members on their health care journeys, providing better access to community resources and affordable, local care options as well as digital tools that provide insights into one's personal health," Lynch said. "And in doing so, Aetna is in the position to help transform care delivery and experiences for all of our members."
The survey confirms that doctors play a critical role in supporting patients' holistic health goals. More than three quarters of consumers say it's important that their primary care physician be familiar with their mental health history (86 percent) and their ability to deal with stress (84 percent). Additionally, 30 percent of all people say that direct conversations with a health and wellness specialist would help them achieve their health goals.
It's clear that in the changing health care environment, transforming care delivery means considering care of the whole person. New care models such as value-based care, in which doctors are rewarded for improving patient outcomes, are creating opportunities to do just that. To illustrate, nearly two-thirds (61 percent) of doctors in value-based care models say they have good access to nutritionists as a supportive health resource, compared to 46 percent of doctors who are not in value-based care models.
"Each person has unique health goals," said Lynch. "At Aetna, we believe that working side-by-side with our members and their providers to offer accessible, affordable, highly-personalized and local care is the best formula to help our members achieve their health and wellbeing goals."
For more findings, read the inaugural Health Ambitions Study or view a visual snapshot of the results in this infographic.