For over a decade, Aetna has been focusing on transforming the health care delivery system. Members are at the center of Aetna's accountable care organizations, with the goal of improving health by providing access to high-quality, effective, patient-centric care.
Accountable care organizations are integrated networks of hospitals, doctor offices and other health care facilities that get paid by an insurer based on the quality and effectiveness of care their patients receive. Aetna has over 500 accountable care organization arrangements across its Commercial and Medicare lines of business.
Aetna's accountable care organizations have seen broad successes. At 4 in every 5 accountable care organizations, members were more successful in managing chronic diseases, such as diabetes and heart disease, than members who did not participate in a similar care model.12 months through June 2016 versus 12 months through June 2015. Market comparison includes all attributed non-value-based contract members. Results exclude individual, student health and coordination of benefits. Results differ due to differences in time periods and adjustments.
Members of Aetna accountable care organizations also saw an average savings of $29.25 per month from June 2015 to June 2016.Compared to broad Aetna network plans. Actual results may vary; savings may be less when compared to other value-based or narrow network plans. And an October 2017 study of Aetna accountable care organizations found there were lower costs for emergency room, inpatient and physician visits in 2016.Inaugural ACO Product Evaluation Study results, October 2017, for members with 2016 effective dates. Six-month baseline period prior to ACO effective date and six-month study period after ACO effective date.
"Accountable care organizations combine the best of both worlds by bringing together the capabilities of a health insurer focused on wellness with all that health systems, doctors, and other care givers across the community do to deliver high quality care," said Paul McBride, CEO of Accountable Care Solutions at Aetna. "These collaborations are helping to drive improvement in outcomes, affordability and access for our members. We aren't only focused on the care members receive when they have chronic or acute health care needs. We also are committed to providing a better member experience and helping members achieve their health and wellness goals."
Accountable care organizations take a proactive approach to health care. Rather than waiting until members visit a doctor's office, care teams use technology and digital tools to connect with them in between appointments. The arrangements allow clinicians to have more information about a patient when they visit, including if they're regularly filling prescriptions or the results of recent tests.
Increased engagement with the patient also can result in the need for fewer in-person appointments, McBride said.
In Arizona, Aetna and Banner Health had a five-year accountable care organization arrangement called "Aetna Whole Health℠ – Banner Health Network." The relationship has led to:
A 24 percent decrease in avoidable surgery admissions;
A 4 percent increase in generic prescribing; and
An 11.5 percent overall reduction in medical costs.
The success of Aetna Whole Health℠ – Banner Health Network led to the development of Banner|Aetna, a joint venture aimed at bettering the member experience and improving health outcomes and engagement with providers while reducing the cost of health care in Arizona.
In 2016, Aetna launched Aetna Premier Care Network Plus, a plan focused on simplifying health care access and services for members by putting many high-performing accountable care organizations together in a common network. Members can then easily find in-network providers that provide high-quality care in 47 of the largest communities coast to coast.
Aetna Premier Care Network Plus is built on providing both simplicity and quality. Specialists and hospitals in the network use data-driven decision making and shared clinical pathways to improve quality and efficiency. On average, this results in shorter hospital visits and fewer hospital readmissions.
Aetna Premier Care Network Plus is configured to produce the greatest medical cost savings through designated providers, who are chosen based on measures of quality and efficiency that lead to improved outcomes.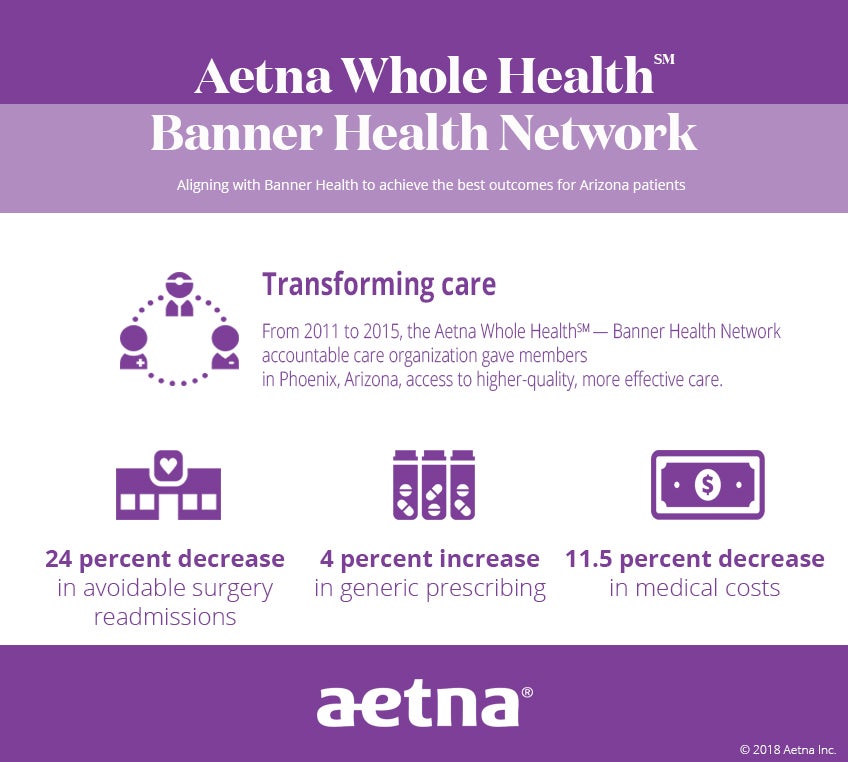 Care Teams Support Members
Helping people achieve their health goals means supporting them outside of the doctor's office. Whether it's connecting members to specialists or community services or answering questions about medications, accountable care organization care teams can help better coordinate care.
For example, Aetna's Delaware Valley accountable care organization sent a social work care coordinator and nurse care coordinator to conduct a home visit with a 75-year-old patient. The member's doctor was concerned her medical condition and living situation put her at an increased risk for a fall. The member's care goals included living at home and maintaining independence.
The member had a chronic, neurological disease impairing her motor skills and muscle control. She fell several times when trying to stand up from a chair and while retrieving items in another room. The care coordinators also discovered the member was unable to carry meals from her kitchen to the living room while using a walker.
The care coordinators:
Connected the member to a local volunteer program that delivers weekly meals.
Set the member up with a medical alert system that would call for help in the event of a fall.
Found a charitable organization to pay for a chair lift to help her safely stand from sitting in her chair.
Set the member up to receive physical and occupational therapy in her home.
The care coordinators followed the member's progress for six months. With the additional assistance and resources, she avoided falls and emergency room visits, while still living on her own. This is the type of member experience Aetna strives to make the norm. Accountable care organization relationships support that outcome.