Aetna members* can join celebrity couple, Shawn Johnson East and Andrew East, this August to virtually participate in a variety of health and wellness challenges within the Attain by Aetna® app
WOONSOCKET, RI — Aetna, a CVS Health (NYSE:CVS) company, has announced the launch of its second Attain Games challenge, a virtual event for users of the Attain by Aetna® app. Over the course of two weeks, users will be split into two teams led by celebrity captains, world-champion gymnast Shawn Johnson East and pro football player Andrew East. The Attain Games will spotlight a series of healthy activities to help members experience new and challenging ways to achieve their health goals while focusing on at-home wellness. The Attain Games start on Sunday, August 8th and end on Saturday, August 21st, 2021.
Each day, users will be presented with three healthy at-home challenges to complete. The first week of challenges will be centered around motivating your mind, while the second week will be all about moving your muscles. With each healthy action completed members can earn points to be used to earn their Apple Watch or for gift cards. The team with the most points at the end of the two weeks will win the 2021 Attain Games.
"We saw a huge success with our first ever Attain Games last year where Attain users across the country competed in homespun challenges that channeled their inner athlete," says Daniel Shaw, Vice President of Consumer Innovation Products at CVS Health. "When sporting events were cancelled due to the pandemic, seven elite athletes stepped up to help users go for the Attain Games gold and achieved impressive results. Throughout the weeklong virtual event, our users burned 198 million calories, achieved a 132% increase in breath minutes and crushed 850 thousand challenges. This year, we plan to keep the momentum going and have more Attain users actively engaged, resulting in an even larger impact."
,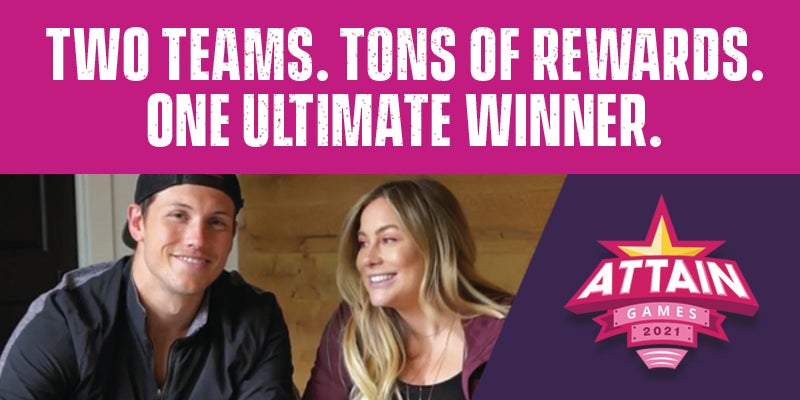 ,
Released in 2019, the Attain app is a personalized engagement experience that combines health history with Apple Watch information to empower better health. Aetna has deep clinical experience, engaging its members across their health care needs from wellness to chronic disease. The Attain app provides Aetna members with personalized goals, tracks their daily activity levels, recommends healthy actions, and ultimately rewards them upon completion.
Since launch, the app has now over 200 thousand users, with impressive results to-date, including:
more than 20 billion calories burned

92% of users feel the app is making them healthier

over 21% of users are more likely to get their annual wellness exam
*If you are an Aetna commercial medical member with an iPhone® interested in participating, visit www.AttainbyAetna.com for more information or download the Attain app on the App Store® by texting ATTAINAPP TO 37046 and check your eligibility today!
Do not attempt the Attain Games challenges if you have a medical condition that will be affected, or if your doctor advises you not to take part in physical activity. There may be an opportunity for you to earn the same reward by different means.
About CVS Health
CVS Health is the leading health solutions company, delivering care in ways no one else can. We reach more people and improve the health of communities across America through our local presence, digital channels and our nearly 300,000 dedicated colleagues — including more than 40,000 physicians, pharmacists, nurses, and nurse practitioners.
Wherever and whenever people need us, we help them with their health — whether that's managing chronic diseases, staying compliant with their medications, or accessing affordable health and wellness services in the most convenient ways. We help people navigate the health care system — and their personal health care — by improving access, lowering costs and being a trusted partner for every meaningful moment of health. And we do it all with heart, each and every day.
Media contact
Carissa Falzarano
FalzaranoC@cvshealth.com