,
When it comes to better health, being ahead of the curve is part of the CVS Pharmacy DNA. In 2014, we became the first and only major retailer to stop selling tobacco. Since then, we've continued to take major steps in our commitment to better health throughout our aisles:
Enhancing the Customer Experience
We're constantly working to make it easier for customers to make health- and wellness-driven choices while shopping at CVS Pharmacy.
In 2017, CVS Pharmacy unveiled a new store design, with innovative features – including "discovery zones" in key health categories – that expand healthy product selections and guide customers to find the right health solutions for them.
In the quest to enhance our customer experience even further, we continue to expand the number of MinuteClinic nationwide and have added hearing and optical services to select locations.
Customers can also take advantage of CVS Pharmacy health-focused offerings on the go, with the rollout of vending machines stocked with convenient necessities including over-the-counter health products, "better-for-you" snacks and popular personal care products.
,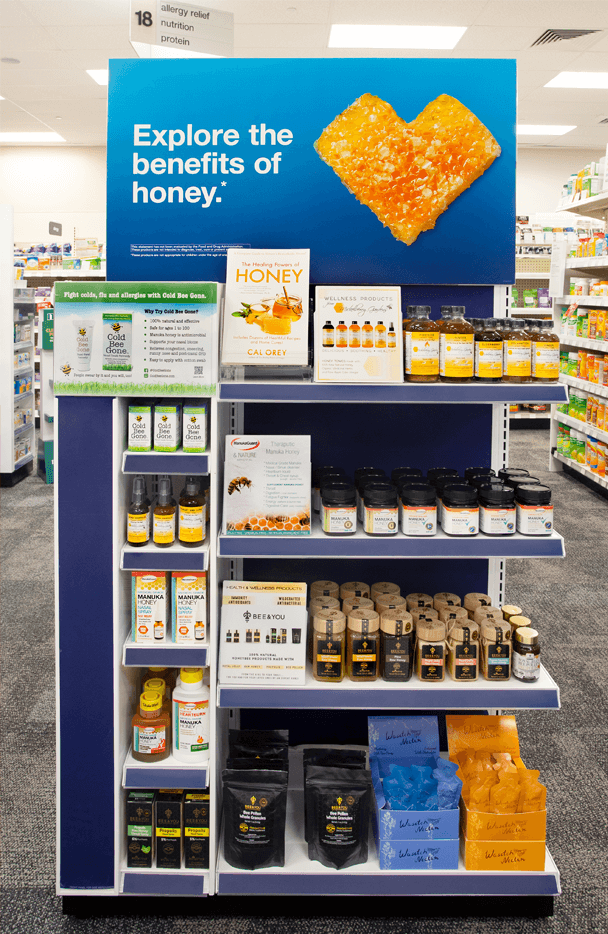 ,
A Growing Selection of Proactive Wellness Products
The health assortment in our stores goes beyond products that help our customers feel better when they're sick: We also carry many products with natural and specialty ingredients, as well as those geared toward customers looking to make self-care part of their daily routine.
Our ever-expanding selection of wellness items covers a broad range of categories, including cognitive health, sleep, immunity, digestive health, fitness, connected health and genetic testing. Within those categories, customers will find collagen protein, essential oils and aromatherapy stress spray, bone broth protein, beet root powder, weighted blankets, yoga mats, free weights, bee pollen and honey immunity products, as well as nutrition products from specialty brands like Irwin Naturals, New Chapter and Navitas Organics Superfood Mix Ins.
Better-For-You Foods
With 400 organic products and over 1000 natural items on CVS Pharmacy shelves, nearly half the foods found in our stores are "better-for-you" options.
To make it easier for customers to make healthier choices while shopping, "Trend Zones" display thematic food trends and topics, such as "super foods" or "vegan snacks," while "Purposeful Choices" shelf tags clearly identify products that fit nutritional and dietary preferences.
CVS Pharmacy customers can choose from Gold Emblem Abound ™ items, our brand of wholesome snacks and grocery essentials that are free from artificial preservatives and flavors, as well as other healthier choices including Alo Exposed Waters, EPIC bison bars and That's It.