At CVS Health, our Prescription for a Better World framework serves as the foundation for our Corporate Social Responsibility (CSR) strategy, which encompasses a wide range of initiatives across three pillars: Health in Action, Planet in Balance, and Leader in Growth. In our 11th annual CSR report, we detail how these initiatives underscore our commitment across all of our business units, to providing all Americans with affordable, accessible and quality care; ensuring the health of our planet; and continuing to be a best-in-class employer.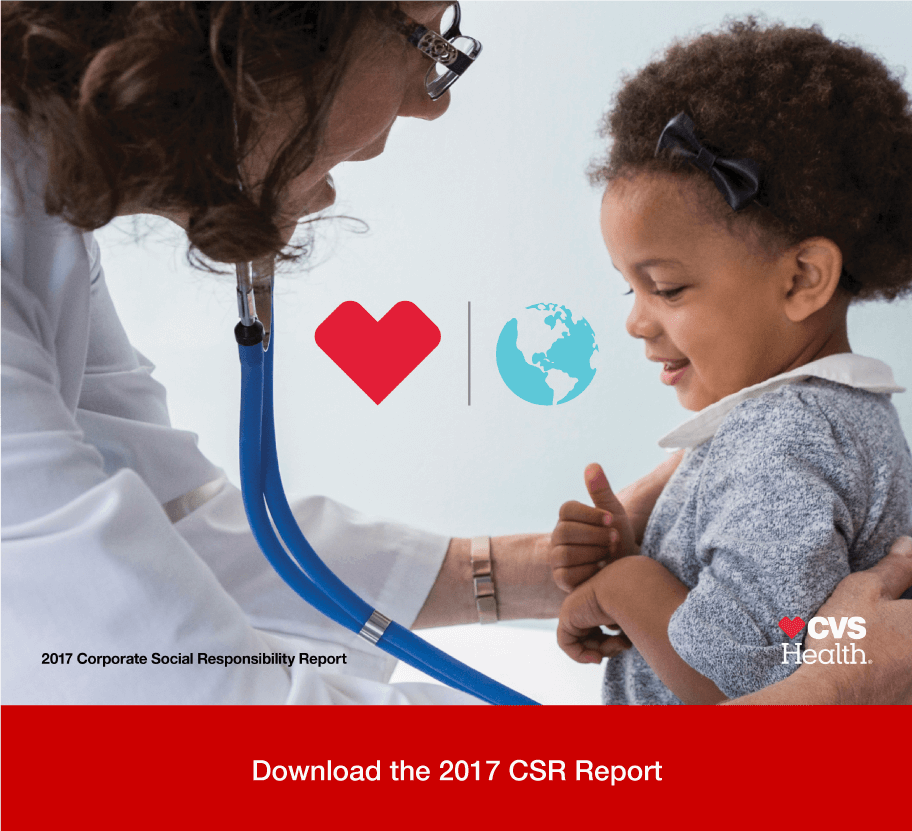 Health in Action
Every day, we help millions of people on their path to better health, whether advising on prescriptions, helping patients to manage chronic conditions, or ensuring that healthier decisions are easier to make. Within the Health in Action pillar of our CSR strategy, top priorities include accessible and affordable health care, support for patients with chronic disease, and patient and customer well-being and safety. In 2017, we took several significant steps to advance these priorities.
Enhanced utilization management program consistent with guidelines from the Centers for Disease Control and Prevention to ensure opioids are being prescribed and used appropriately.

Launched a real-time information sharing initiative with providers to enable more effective prescription decision-making.

Introduced new measures to prevent harmful drug introductions, including the implementation of an automated system to alert pharmacists when patients were prescribed multiple drugs with potentially harmful interactions.
Planet in Balance
We believe there is a strong relationship between human health and the health of our environment. CSR priorities aimed at reducing our environmental impact fall within the Planet in Balance pillar of our broader CSR framework. These include improving the sustainability of our operations and across our supply chain, increasing the availability of healthy and sustainable products in our stores, and driving engagement with internal and external stakeholders around sustainability. We made substantial progress toward our environmentally-focused CSR initiatives in 2017.
Established a science-based emissions reduction target and submitted for approval from the Science Based Targets Initiative.

Eliminated chemicals of concern from almost 600 store brand beauty and personal care products.

Reduced fleet travel by about one million miles and fuel consumption by 37,000 gallons through improving fleet routing and idling time.
Leader in Growth
We continue to drive sustainable growth that creates value for all of our stakeholders, including shareholders, partners, colleagues, and communities. Though we make a positive economic impact, we also strive to leverage our size and scale to make a social impact in the communities we serve. Priorities for the Leader in Growth pillar of our CSR strategy include maintaining a safe, rewarding and inclusive workplace, meeting or exceeding regulatory compliance and voluntary standards, and embedding diversity within our supply chain. We have actively engaged in many initiatives to support our Leader in Growth priorities.
Achieved record spending with diverse suppliers and set a new goal to increase annual spending with Tier I and Tier II diverse suppliers to $2.5 billion by 2020.

Have hired 4,700 Registered Apprentices to date and set new goal to hire 5,000 Registered Apprentices more by 2022.

Earned a spot, for the first time, on DiversityInc's 2017 Top 50 Companies for Diversity due to a greater focus on diverse supplier spending, diverse management recruiting and increased colleague participation in our Colleague Resource Groups.
We invite you to explore our report to learn more about our work and how it underscores our commitment to our customers, communities, colleagues and all stakeholders.