A new, first-of-its-kind initiative designed to prevent the devastating impacts of preeclampsia in pregnant members launched today as part of the Aetna Maternity Program. Building on the enterprise's long-standing commitment to support expectant mothers on a path to better health, the initiative is focused on preventing this condition, a leading cause of maternal and infant illness and death that accounts for 15 percent of all preterm births in the U.S.1
According to the Centers for Disease Control and Prevention, the U.S. is one of the only high-income countries where deaths related to pregnancy or childbirth are on the rise. This crisis also disproportionately affects Black women.2,3 And, in recent months, the COVID-19 pandemic has created new challenges, as many expectant moms may be attending fewer in-person prenatal care visits that could help detect preeclampsia risks.

"Alarmingly, women today are 50 percent more likely to die in childbirth than their mothers were, and Black women are at an even higher risk. We must do more to address this public health crisis and keep moms and babies healthy," says Daniel Knecht, M.D., CVS Health's vice president of clinical products. "The goal of this initiative is to help empower our members to have productive discussions with their providers throughout their pregnancy journey."
Empowering safer pregnancies
Amidst the COVID-19 landscape, pregnant women may be attending fewer in-person prenatal care visits and in turn be at higher risk for developing complications that go undetected.
By leveraging Aetna claims data, the program identifies high-risk pregnant members for individualized outreach and subsequently sends them an engaging, personalized prenatal care kit. Each kit contains educational materials about preeclampsia, along with an 81 mg bottle of low-dose aspirin, an intervention that can substantially reduce the risk for developing the condition. Members also receive an appointment reminder card encouraging them to have informed conversations with their obstetrician about the potential benefits of low-dose aspirin.4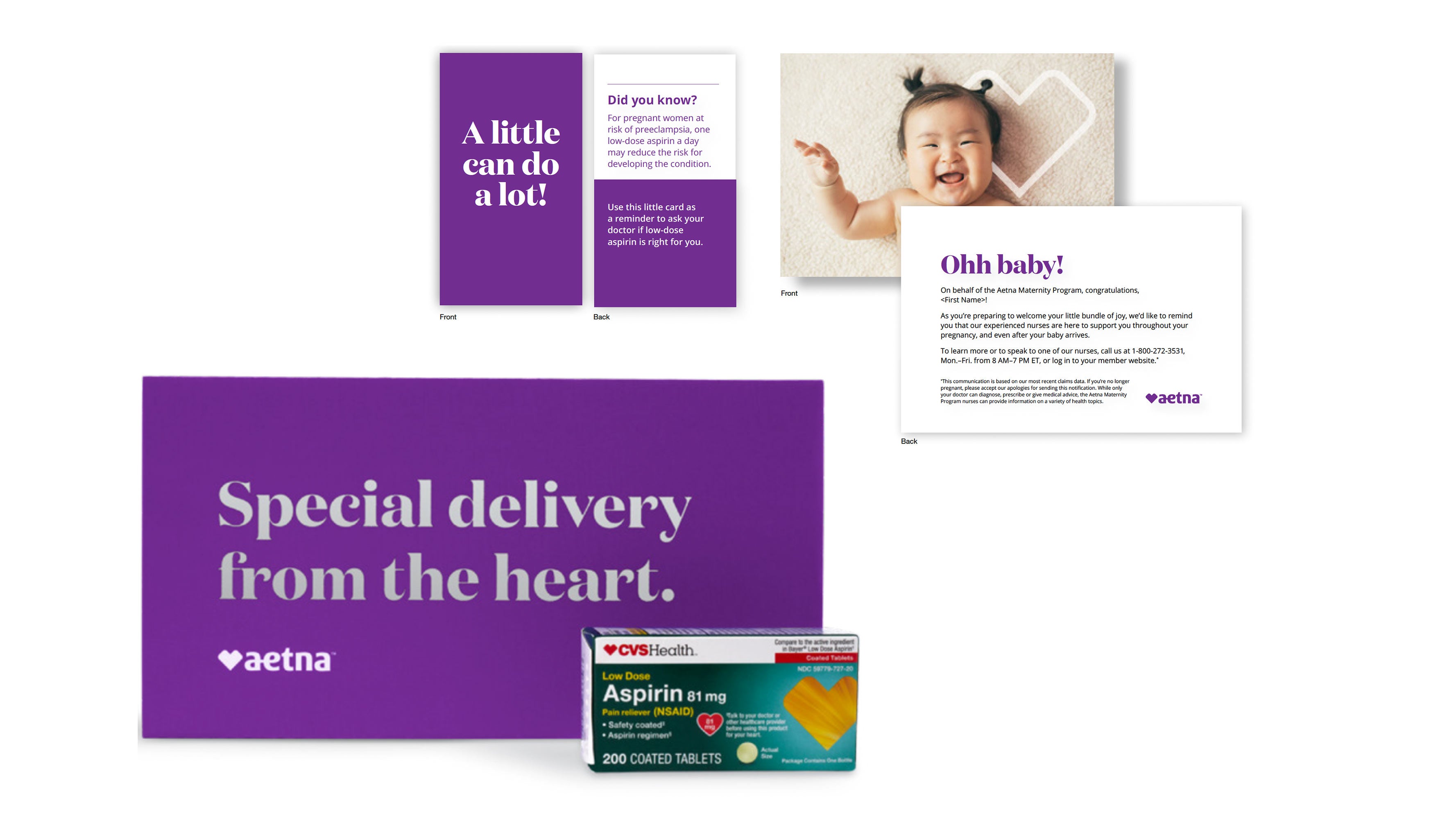 Although preeclampsia has no cure, taking one low-dose aspirin a day has been proven to be a low-cost, safe medication that can significantly cut the risk of the condition and some of its complications.5 Despite compelling evidence, providers and patients are largely unaware of aspirin's effectiveness, highlighting the important need for continued education.
"CVS Health is well-positioned to improve both access to and outcomes of maternal and neonatal health care, including for causes of severe maternal morbidity that is disproportionately experienced among minority women," noted Joanne Armstrong, M.D., CVS Health enterprise head of women's health and an OB/GYN. "We have delivery channels that can bring critical information and resources, such as low-dose aspirin, right to members' doorsteps. This outreach is coupled with a care management program featuring highly trained and dedicated nurses to support the personalized needs of pregnant members."

The initiative is an exciting and simple way that CVS Health and Aetna are empowering safer pregnancies and connecting expectant mothers with preventative care that meets their unique needs. As part of the Aetna Maternity Program's efforts, all pregnant members will receive a letter and flyer from the Society of Maternal-Fetal Medicine informing them about preeclampsia and its signs and symptoms.