Our COVID-19 action plan
Supporting America during the most pressing public health challenge of our time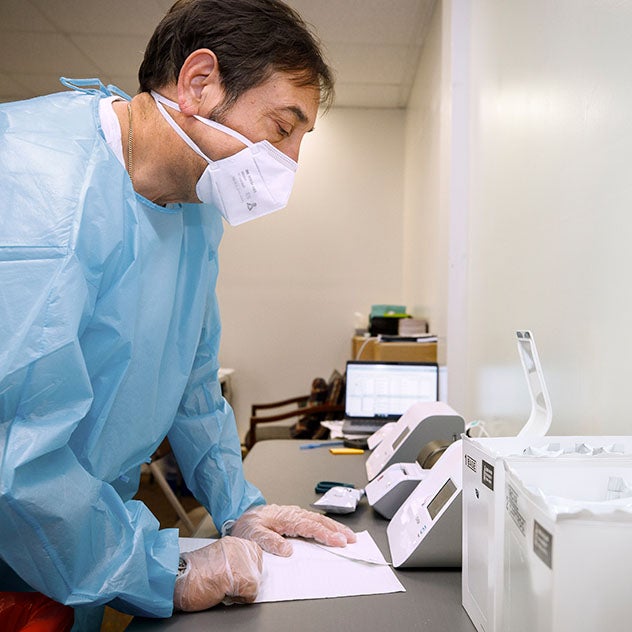 Addressing the complex challenges of COVID-19
At the outset of the pandemic, CVS Health® mobilized our colleagues, leveraged our unique business model and utilized our local presence in thousands of communities. We continue to fight the spread of the virus and its impact on Americans.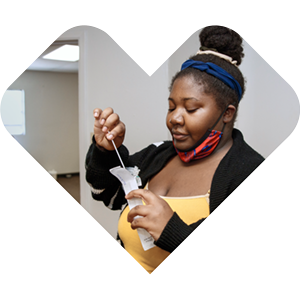 COVID-19 timeline
CVS Health opens its first COVID-19 test site in Shrewsbury, Massachusetts
E-Clinic, a virtual care offering staffed by MinuteClinic® providers, opens up in response to the COVID-19 pandemic
CVS Health announces the expansion of COVID-19 testing services with 1,000 rapid-result testing sites
CVS Pharmacy® becomes the first national retailer to offer touch-free payments through PayPal and Venmo, further enhancing consumer safety 
U.S. Department of Health & Human Services (HHS) selects CVS Health to administer a monoclonal antibody therapy for eligible COVID-19 patients at risk of severe infection
Aetna® announces it will waive cost-sharing for COVID-19 vaccination for all Commercial and Medicaid members and further extend series of cost-share waivers to help members access care
CVS Health completes first round of COVID-19 vaccine doses at skilled nursing facilities
CVS Pharmacy begins offering COVID-19 vaccinations to eligible populations across 11 states
CVS Health announces community-based strategy to address COVID-19 vaccine education and equity
CVS Health begins rollout of community-based vaccination clinics in areas with greatest need; Educators and early childhood workers account for more than 30 percent of vaccination appointments at CVS Pharmacy
COVID-19 vaccine availability at CVS Pharmacy expands to 29 states
CVS Health surpasses 17 million COVID-19 vaccine doses administered at long-term care and CVS Pharmacy retail locations
Over-the-counter COVID-19 tests become available at CVS Pharmacy
Return Ready™ solution begins offering worksite vaccination clinics for U.S. employers
Vaccine appointments become available for adolescents ages 12 to 15 at CVS Pharmacy
CVS Health announces #OneStepCloser sweepstakes to encourage COVID-19 vaccination
MinuteClinic locations begin offering COVID-19 vaccinations to eligible populations
CVS Health releases 2021 Health Care Insights Study, which includes key data on how the pandemic is impacting consumer health needs and preferences
CVS Pharmacy begins offering third doses to certain immunocompromised people following Centers for Disease Control and Prevention (CDC) recommendations and guidelines; Over a three week period, more than 330,000 third doses are administered across more than 9,700 CVS Pharmacy locations
CVS Health announces it will require certain colleagues who interact with patients and all corporate staff, including all leaders at the vice president level and above, to be fully vaccinated for COVID-19 by October 31, 2021
CVS Health holds national career event to fill 25,000 clinical and retail jobs to support flu season, COVID-19 testing and vaccination
CVS Health begins offering Pfizer-BioNTech booster shot to eligible populations
CVS Health begins administering the Pfizer-BioNTech pediatric vaccine to children ages five to 11 at nearly 1,700 CVS Pharmacy locations in 46 states, Puerto Rico and Washington D.C.
CVS Pharmacy begins offering free N95 masks as part of the company's continued participation in the Federal Retail Pharmacy Program and its commitment to providing equitable access to the tools necessary to combat COVID-19
CVS Health launches a new digital service via CVS.com® and the CVS Pharmacy app that simplifies the process for locating, ordering and picking up at-home COVID-19 test kits;  Service also offers eligible consumers zero upfront out-of-pocket cost with no need for them to submit a claim to their health insurance providers
More than 1,100 MinuteClinic locations activate the federal government's Test to Treat program, providing end-to-end access for oral antiviral therapies with prescriptions to treat COVID-19 in eligible populations that can be filled at the CVS Pharmacy co-located in the same store as the MinuteClinic
CVS Pharmacy and MinuteClinic offer recommended second booster dose of Pfizer-BioNTech and Moderna COVID-19 vaccines to people age 50 and older
CVS Pharmacy and MinuteClinic begin administering the Pfizer-BioNTech COVID-19 booster to children ages five through 11 who have completed their primary series at select CVS Pharmacy locations
CVS Pharmacy and MinuteClinic locations nationwide begin offering Pfizer-BioNTech and Moderna bivalent COVID-19 booster vaccines, which offered better protection against COVID-19 caused by the omicron variant
Following the Food and Drug Administration's (FDA) decision to grant pharmacists the authority to evaluate COVID-19 positive patients and prescribe the oral antiviral Paxlovid, if eligible, CVS Pharmacy begins offering the service at more than 9,000 CVS Pharmacy locations
MinuteClinic adds the ability to administer the bivalent Pfizer-BioNTech COVID-19 vaccines for children ages 18 months to 4 years of age, adding to monovalent administration which began in June 2022