Eileen Howard Boone, CVS Health's Senior Vice President, Corporate Social Responsibility and Philanthropy and President, CVS Health Foundation, shares her thoughts on body image issues among girls and young women at recent Girls Inc. Luncheon - Celebrating Women of Achievement, inspired by the recognition and her recent conversation with Girls, Inc. National Scholar Le'Nericka Beasley. CVS Health was honored by for our recent announcement about the CVS Beauty Mark initiative, which requires transparency for beauty imagery that has been materially altered.
,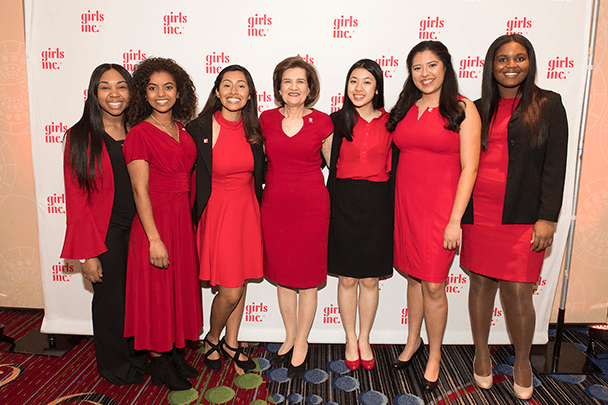 ,
Everyone needs support systems and role models for guidance and encouragement. For many girls and young women, that has been Girls Inc., which teaches the importance of embracing differences among people and celebrating individuality. Support offered by organizations like these can help young women like Le'Nericka overcome body image issues and move past negativity seen on social media and through in-person exchanges.
The Importance of Role Models for Girls and Young Women
My mom has been a great role model and positive influence on my life. Even as she took care of our family of eight people, she made time to give back to our community. Mentoring and encouraging girls and young women was important to her. Through active participation in our local Girls Scouts organization, she helped coach many girls and young women to be the best that they could be.
By watching my mom, I knew that I could achieve anything. I was very lucky to have that type of role model, and I try to offer a similar presence to many people in my life, but not everyone has this sort of guidance.
As both a mom myself and in my role at CVS Health, I am alarmed by some of the statistics on women and body image:
Two-thirds of women strongly agree that the media has set an unrealistic beauty standards.
42 percent of girls in first, second, and third grades want to be thinner.
90 percent of girls aged 15 to 17 want to change at least one aspect of their physical appearance.
Only 4 percent of women globally consider themselves beautiful.
This is more than just a media literacy problem. This is a health issue that has led the American Medical Association to identify propagation of unrealistic beauty standards as a cause of body image issues.
CVS Health Promotes Realistic Standards of Beauty
As one of the largest beauty retailers in the country, we believe we have an opportunity and a responsibility to think about the messages we send to our customers, including girls and young women. Moving forward, we have made a commitment to use only authentic beauty imagery in our stores, on our websites, and in our marketing material. This means CVS will not materially alter or change a person's shape, size, proportion, skin or eye color, wrinkles, or other individual characteristics for any of the beauty imagery we create.
CVS Health is honored to have been recognized by Girls Inc. and we hope that the CVS Beauty Mark initiative will help to fuel the movement that Girls Inc. is leading, helping to empower girls and young women.