From a gender wage gap to the so-called "tampon tax" on period products, the cost of being a woman — especially a woman of color — only increases over her lifetime.
On International Women's Day, it's important to understand that economic inequities affect women's physical and mental health, says Dr. Joanne Armstrong, Vice President and Chief Medical Officer, Women's Health and Genomics at CVS Health®.
"We need to work to help ensure health equity, which means ensuring every individual has a just and fair chance to attain their optimal health, unencumbered by other factors like gender, racial and societal biases," says Joanne.
Period poverty — the inability of people with periods to purchase the menstrual products they need to attend work or school or participate in daily life — exemplifies how health inequities hold women back.
While many states exempt "essential items" such as groceries and toilet paper from sales taxes, 26 states continue to tax period products.
Joanne points out that the costs add up. "Periods happen every month for 40 years of a woman's life. That's a long time — about 3,500 days, or 10 whole years."
That's why CVS Health is helping by paying the sales tax in 12 states, reducing the prices of CVS Health store brand period products in core stores by 25% and expanding MinuteClinic® women's health care services.
Period poverty is an underappreciated health equity issue

According to the World Bank, over 500 million people face period poverty worldwide. In the U.S., half of low-income people had to choose between buying food or period products.
Beyond financial inequities that disproportionately affect women of color, period poverty has medical impacts if people are forced to ration products or use makeshift supplies.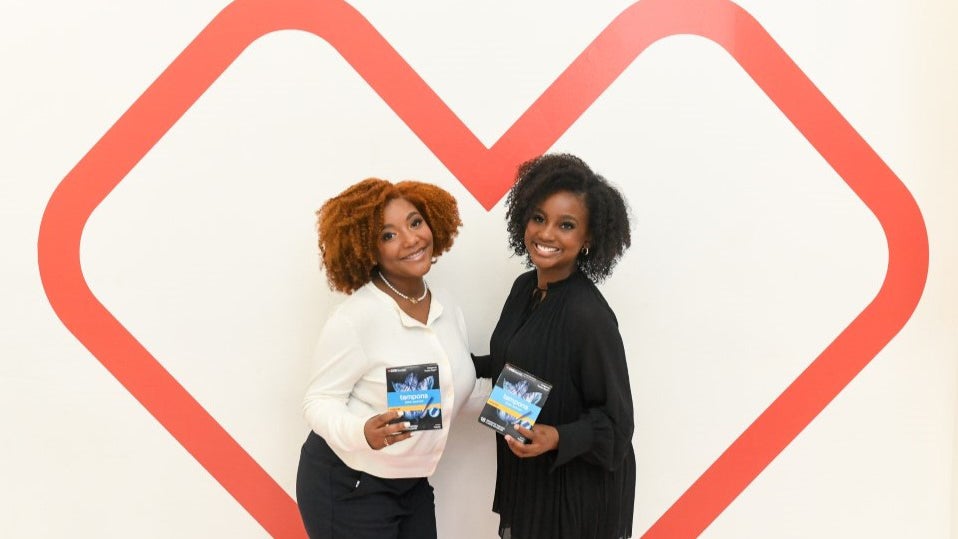 To combat this trend, Gen Z sisters Asia and Laila Brown co-founded 601 for Period Equity to provide period products to those in need.

"I don't think anybody should have to choose between groceries and buying the pads they need," says Asia in a CVS Health live panel discussion. "They're not luxuries; we need them to survive and thrive."
A national Harris Poll commissioned by CVS Health found that a majority of Americans say period products should be supplied for free at schools (77%), workplaces (59%) and anywhere there is a public restroom (58%).
"We all have a part to play in making sure that equity is a reality for all," says Asia.
Be sure to watch our Women's Health Matters TV spot that highlights our commitment to women.