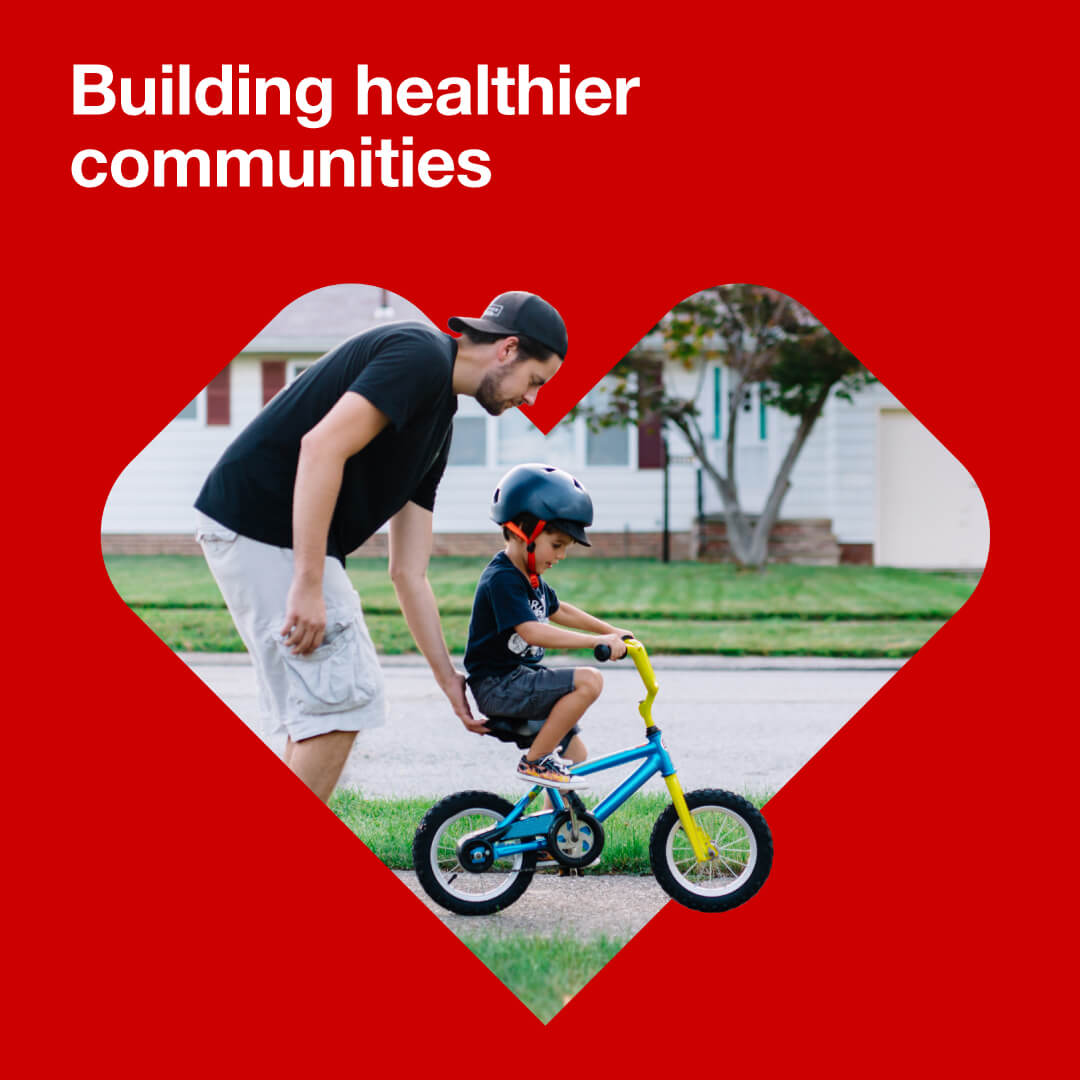 Helping people on their path to better health is the purpose behind everything we do at CVS Health. And with a presence in nearly 10,000 communities nationwide, we understand that fulfilling that purpose starts locally, with care that's both affordable and easily accessible.

By combining with Aetna, we are bringing together a unique set of capabilities and resources to improve the health of communities across the United States. We're doing this not only through the introduction of innovative new tools and services, but also with meaningful investments at the local level.
A Focus on Community-Level Health
To help us deliver on this goal, we've launched the Building Healthier Communities initiative, a five-year, $100-million commitment to support critical programs and partnerships with local and national nonprofit organizations.
"Our new commitment builds upon the exemplary track records of CVS Health and Aetna in supporting community-based organizations to ensure they have the most effective tools, resources and solutions to accelerate the improvement of health care for individuals and families across the country," said Larry Merlo, CVS Health President and CEO, who announced the initiative during a speech at the National Press Club in Washington, D.C. on January 14.
Building Healthier Communities will be funded by our newly combined company, as well as the CVS Health Foundation and the Aetna Foundation and will focus on initiatives and programs in three categories:
Improving Local Access to Affordable Quality Care
Recognizing the importance of ensuring that neither cost nor location are a barrier to care, in 2006, we launched Project Health, which provides no-cost comprehensive health assessments. Since its founding, the program has delivered more than $127 million in free health care services to nearly 1.7 million Americans.
As part of the Building Healthier Communities initiative, our Project Health campaign will expand to target more underserved and underinsured communities beginning in 2019.
In addition, we will continue to invest in local community health programs and organizations, providing grant funding in 2019 to more than 100 free clinics and community health centers.
Impacting Public Health Challenges
Chronic disease, opioid abuse and youth tobacco use are all issues that adversely affect the health of many Americans, each and every day.
The Building Healthier Communities initiative will work to tackle these public health challenges through:
Support for partner organizations that are tackling common chronic diseases, including the American Cancer Society, American Lung Association and American Diabetes Association.

A continuation of enterprise-wide efforts to address the nationwide opioid crisis, with funding directed to organizations that are innovating in the area of addiction treatment. For example, we're partnering with Easterseals to prevent and mitigate prescription drug abuse among our nation's veterans.

Be The First, our youth tobacco prevention program, which includes e-cigarette education, healthy behaviors programming and national and local partnerships with organizations like Campaign for Tobacco-Free Kids, CATCH Global Foundation, CDC, and Truth Initiative.
Partnering with Local Communities
Understanding and combatting public health issues and disparities that are unique to individual communities are also critical to affecting change. Through Building Healthier Communities we will:
Support the Healthiest Communities rankings, a groundbreaking report that evaluates the health of nearly 3,000 communities nationwide and identifies the best approaches for improvement.
Continue to support, through the CVS Health Foundation and the Aetna Foundation, community-based organizations that address public health.
Pledge a minimum $10 million in value of volunteer hours each year by CVS Health and Aetna employees to create healthier, more sustainable communities.