By Jesse Roach, MD, Senior Medical Director of Health Equity, CVS Kidney Care
For too long, treatment options for chronic kidney disease have remained unchanged. This has left the disease under-diagnosed and with outdated treatments that fail to meet patient needs — exacerbating deep inequities within kidney health.
We cannot make change happen alone. Instead, we need ideas and insights from those impacted most by kidney disease. When we center our focus on patients' lived experiences, we ensure our approach continues to evolve to meet people where they are and communicate in ways that are accessible and culturally relevant while providing care that fits each community where we work.
Inspired by this idea, we partnered with Lyfebulb to host the first Lyfebulb-CVS Kidney Care Innovation Challenge, bringing together ten inspiring organizations led by patient entrepreneurs from across the country — each with a mission to make kidney care more understandable, accessible, and equitable.
Each of our finalists presented innovative business ideas to achieve this mission, especially our winner, OmniLife. The organization's end-to-end communication and collaboration platform impressed our panel of judges with their purpose-built solutions that enable transplant teams to improve outcomes, reduce costs, and create an optimal experience for clinicians and their patients.
We sat down with OmniLife's Co-Founder and CEO Dalton Shaull to learn more about his team's efforts to address barriers to care for patients going through the transplantation process.
Q: What inspired you to build OmniLife?
Shaull: Growing up, my dream was to play collegiate football and go to the National Football League. I was recruited to the University of Iowa where I played for two years until I got into a near-fatal motor vehicle accident. I'm lucky to still be here. I woke up in the hospital with brain bleeds, broken bones, and a paralyzed arm. This began a year-long recovery process, with one of my biggest challenges being that my paralyzed arm wasn't coming back. Ultimately, I received an autograft transplant, taking nerves out of my legs to put into my arm. To go from paralysis to fully functioning again was inspirational for me. I dedicated the passion I had for football to understanding organ transplants. As I began my research, I realized just how big of a problem organ failure is in the United States and saw an opportunity to streamline the transplant process by helping providers manage patient care and support patients throughout their journeys. And what is really exciting is transplant is just the beginning as hospitals look across the health care ecosystem to implement clinical collaboration and communication solutions to increase efficiency, drive growth, and improve patient care coordination.
Q: Can you tell us more about OmniLife's core offerings?
Shaull: OmniLife is a collaboration and communication platform that allows providers to improve patient care across the continuum of transplantation. We do this in two important ways. First is our care collaboration platform, where we have a clinical decision support tool that assesses, addresses, and analyzes how surgeons and centers are making and evaluating patients for transplantation. We also focus on patient referral, streamlining that process as a care coordination tool, increasing mobile access and allowing patients to track their transplant journey.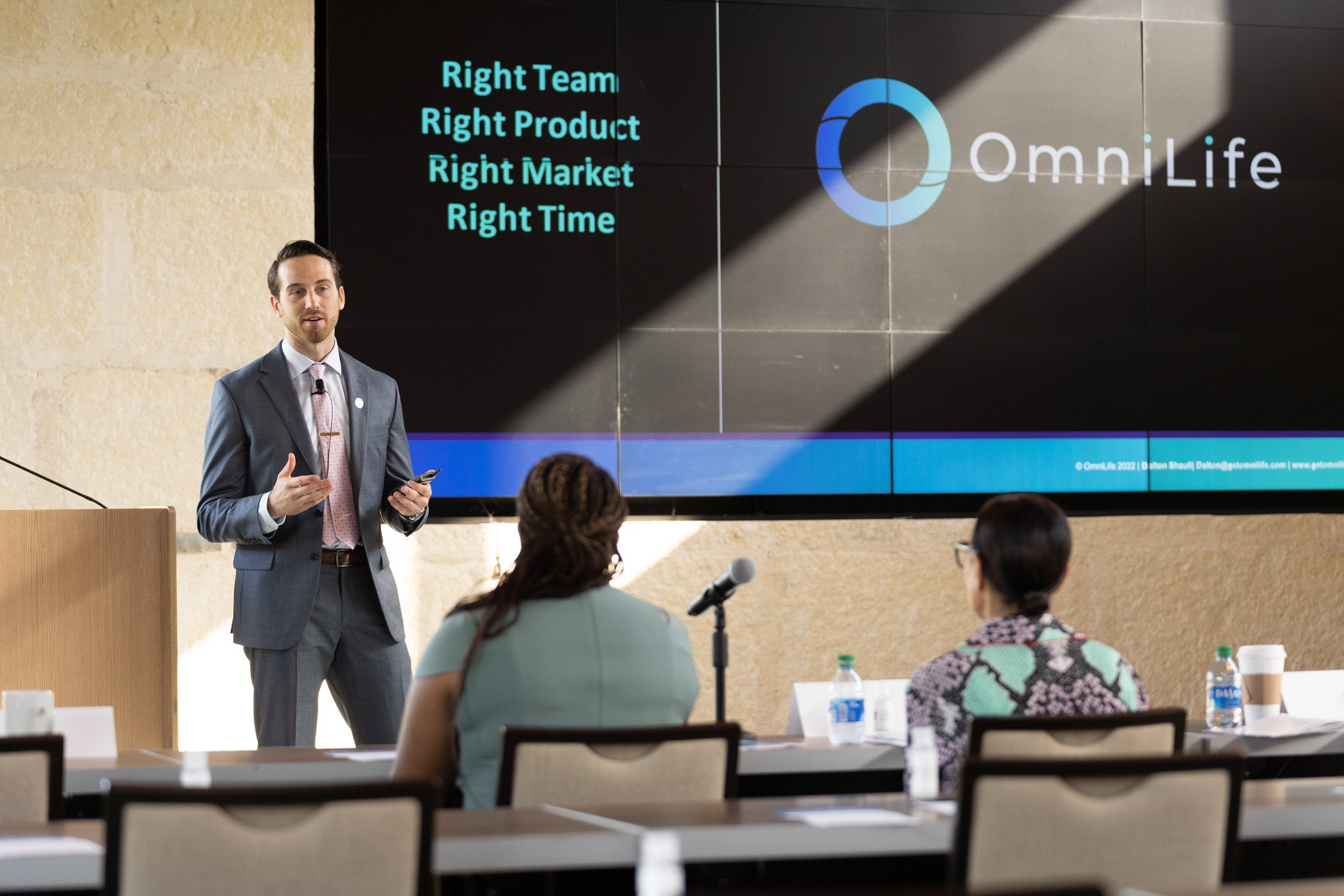 Q: What does OmniLife's success look like to date?
Shaull: We currently have about 60 providers in our network and have facilitated over 10,000 transplant cases on the platform, of which we are incredibly proud. Another side of our product I'm excited about is our marketplace tool. At times, some organs can't be transplanted and are ultimately discarded. Instead of throwing those organs away, our team matches them to researchers. To date, we've placed around 100 organs that would have previously been thrown away in the hands of the people figuring out how to advance care for those living with kidney disease, liver disease, heart disease and other conditions.
Q: How does OmniLife support patients living with kidney disease?
Shaull: My own experience receiving a transplant opened a world I wasn't even aware of. I started seeing more people around me impacted by organ failure, including a close family friend who had three kidney transplants. Learning about her journey, we realized there wasn't much guidance for patients around kidney transplants. As OmniLife has grown, we've been looking into how we can provide care for kidney patients by partnering with others providing this care. For example, OmniLife enables nephrologists, dialysis coordinators and transplant surgeons to use our tools to collaborate around a shared patient. We also partner with transplant hospitals. Our goal is this — right organ, right patient, right time equals more lives saved! For patients who need a transplant, we help transplant centers with our software to not only coordinate patient care during the pre-transplant process — through referral and waitlist management — but we also help the transplant center bring in the best organs. We do this by providing clinical decision support for surgeons that are reviewing organs for the patient. So, we help the hospital bring in the organs, we help the hospital bring in the patients and we make more organs available for transplantation to hopefully get more people off dialysis.
Q: A major part of the Lyfebulb-CVS Kidney Care Innovation Challenge was to improve equitable care for patients. What is OmniLife's approach to health equity?
Shaull: We are focused on addressing equity as it relates to decision-making behind transplants — determining what organ we put in what patient. There's a lot of decision-making that goes into evaluating an organ but also a lot of bias involved. With our clinical decision support tool, we hope to enable surgeons to make the best decisions possible for patients to reduce and mitigate any bias that would impact a person's ability to get an organ. Once patients are referred, we are also focused on helping manage care for that patient. Unless they know how to ask the right questions, this process can be a black box for many patients. There's not a lot of transparency into what that process is and the next steps that they should take. By increasing transparency in that process, we hope to provide a more standardized way for all patients to manage their transplant journey.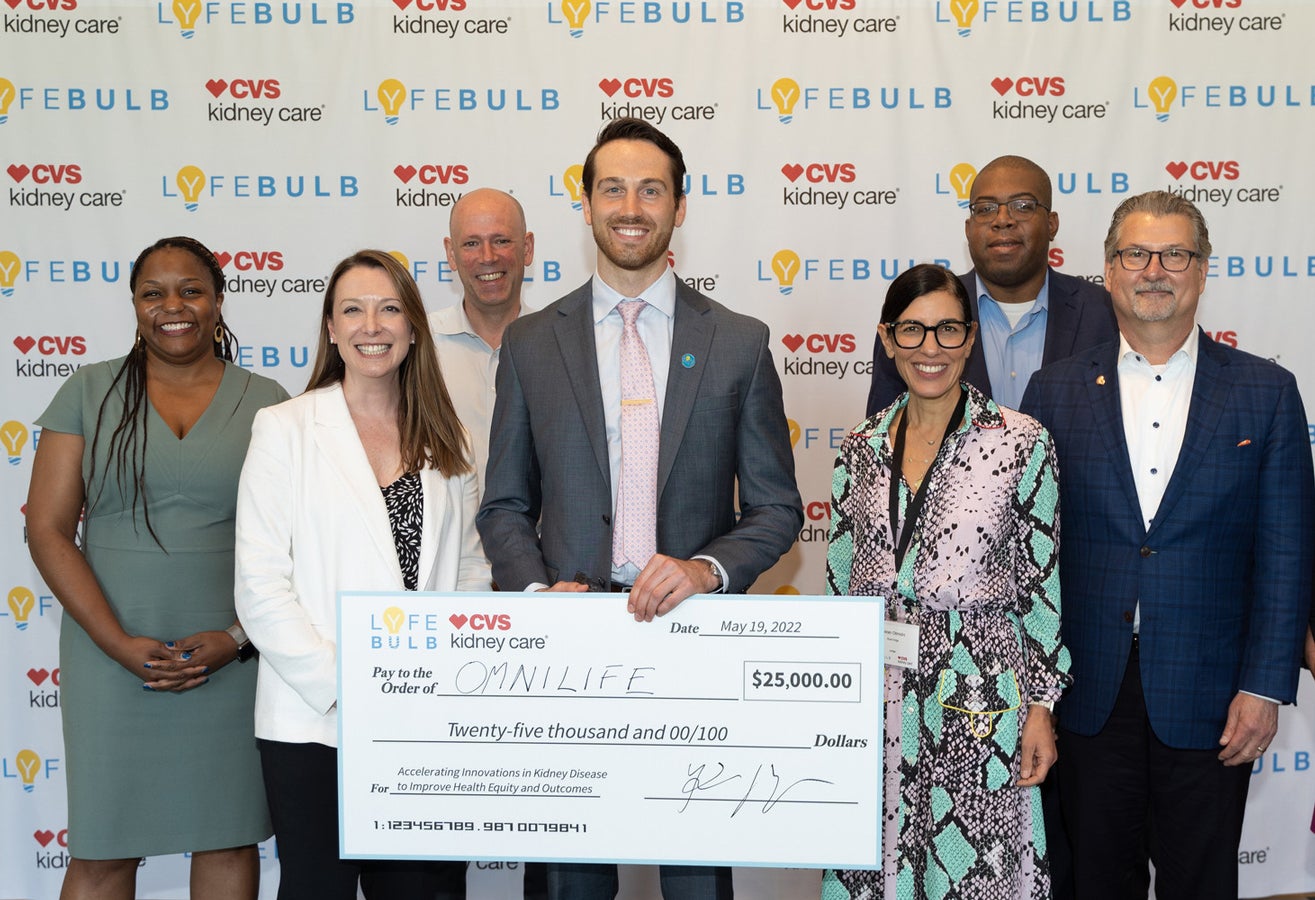 Pictured from left to right: Keisha L. Gibson, MD, MPH, FASN, Associate Professor of Medicine and Pediatrics, DOM Vice Chair of Diversity and Inclusion, and Chief, Pediatric Nephrology Division at UNC School of Medicine; Jennifer Miller, Executive Director Commercialization for CVS Kidney Care; Bruce Culleton, MD, Vice President and Chief Medical Officer, CVS Kidney Care; Dalton Shaull, Co-Founder and CEO, OmniLife; Jeiran Otmishi, Co-Founder of Rumi Edge; Jesse Roach, MD, Senior Medical Director of Health Equity, CVS Kidney Care; and Kevin Longino, President, American Association of Kidney Patients.
Q: As the winner of the Lyfebulb-CVS Kidney Care Innovation Challenge, OmniLife was rewarded a $25,000 grant to continue developing the platform. What will the team be using this funding for?
Shaull: We have a lot of exciting progress taking place at OmniLife that the grant will support. We just hired Dyan Bymark, former Vice President of Solutions and Strategy at Teladoc, as our Chief Commercial Officer. She will be leading the optimization and continued development of our patient tool and app. In the kidney space specifically, we are also working on a tool to support Kidney Care Collaboratives, an accountable care organization (ACO) model created by The Centers for Medicare & Medicaid Services that incentivizes streamlined care coordination around institutional disease patients. The funding will also support our team as we promote our existing tools so that we can continue to grow our network, ultimately creating more opportunities for patients to get the transplants they need.
Q: How do you envision OmniLife as it continues to develop in the future?
Shaull: We have a very big vision for OmniLife. Our goal is that our tools become both a platform and a marketplace for organ transplantation, ensuring that no patient dies waiting for an organ. Additionally, we see our work within transplant as just the beginning. Care is becoming more complex, with patients seeing a drastic increase in the number of specialty care providers and clinics outside of their primary care providers. We have our eyes on several additional markets and use cases within complex care that share similar traits to organ transplant and end-stage organ failure care management. We plan to leverage our network of health systems and providers to grow into these other verticals and expand the impact of our life-saving technology.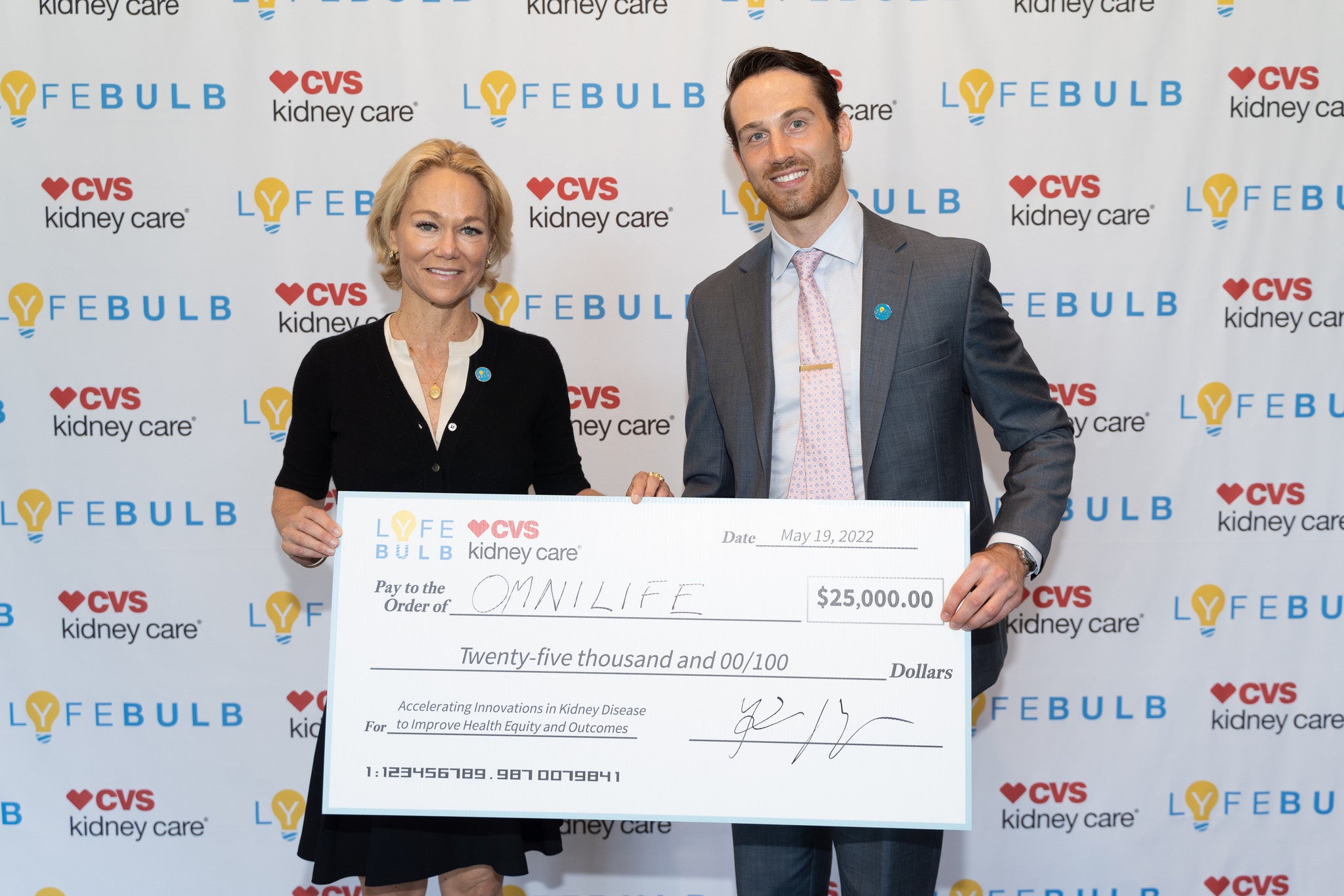 Pictured left: Dalton Shaull and Lyfebulb Founder and Chief Executive Officer Karin Hehenberger, MD, PhD.